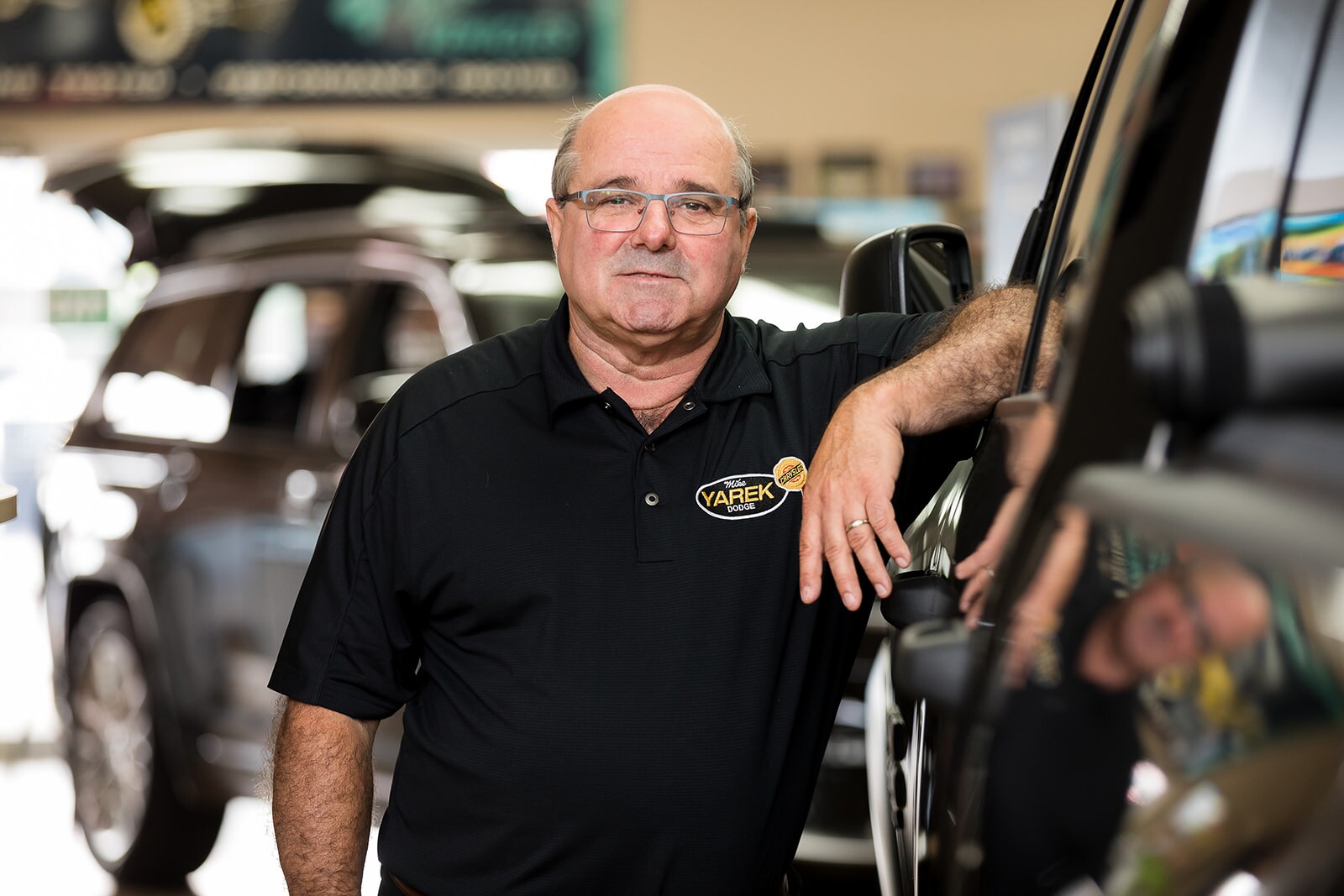 Mike Yarek Sr, Dealer Principal
888-237-6589
Mike Yarek was born and raised on a farm in Oakland, Ontario. His hard work ethic and entrepreneurial mind-set molded his career, as he purchased his first operating gas station in Scotland, Ontario when he was only 20 years young.
He and his brother Paul opened their first Pre-Owned car dealership in Brantford, Ontario across the street from legendary pizza shop GiGi's Panzerotti in West Brant, and the rest is history.
Mike Yarek Dodge is focused on helping the community of Paris to the best of his ability and constantly striving to help anyone who needs a hand.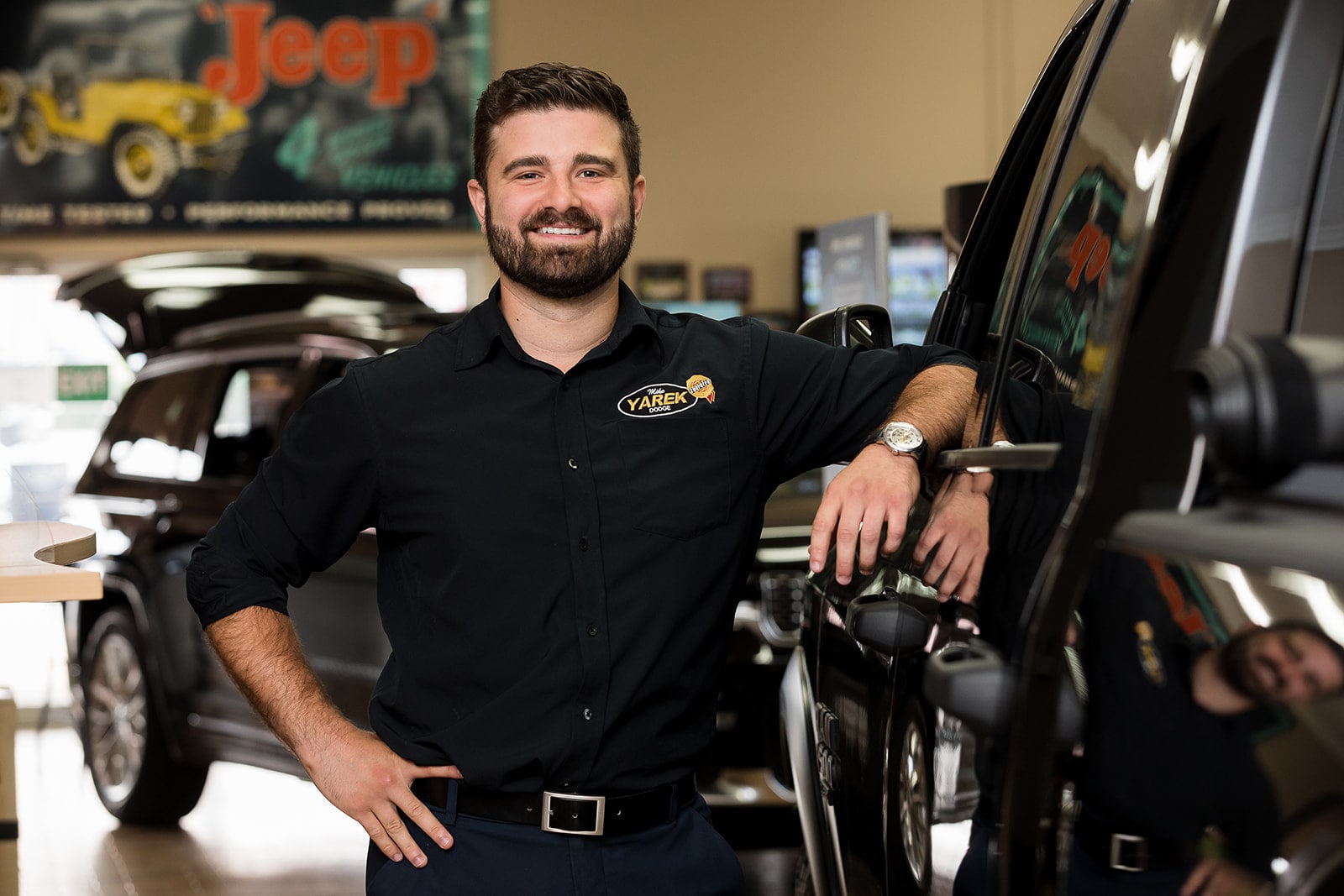 Mike Yarek Jr, General Manager
888-237-6589
Mike Jr was born and raised in the beautiful Norfolk County where he grew up in a small family of six.
His passion for motorcycles and automobiles led him to earn an Advanced Diploma in Automotive Marketing and a Bachelor of Business Degree in Automotive Management. 
Jr spent two years after university to live on Canada's West Coast to work as an automotive public speaker for Ford Motor Company in British Columbia and Southern Alberta. He arrived home to Norfolk County in 2015 after a life altering motorcycle adventure from Vancouver to Tierra del Fuego, Argentina. 
Mike Jr has a young chocolate lab named Cuda' (yes named after the legendary Plymouth muscle car) that keeps him busy at home. You can also find him kayaking or on the mountain bike trails.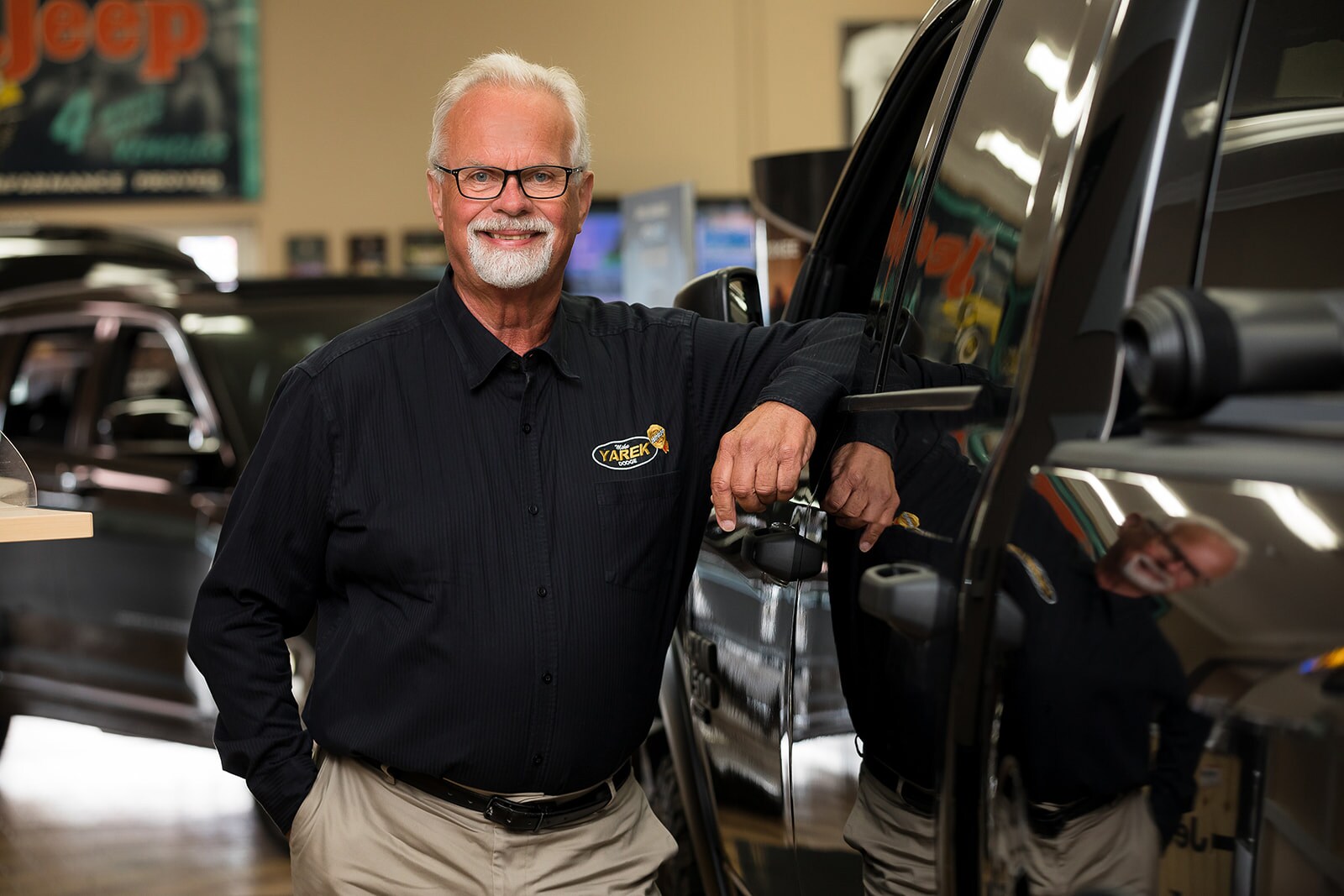 Ted Sanders, Used Vehicle Sales Manager- Retired
888-237-6589
Ted's love for automobiles came to him when he was 3 years old and arrived to Canada from Holland. The farmers who sponsored his family drove a 58' Chevrolet Nomad Station Wagon, and from that point on an 'American Made' vehicle had a strong place in his childhood.
Since then, he has grown a love for motorcycles equally as much as automobiles and his passions have molded an incredible career in the industry.
Ted has always been a Brant-Haldimand-Norfolk native where he and his wonderful family live in the countryside.
Ted has known Mike Sr since the 70's and has helped shape Mike Yarek Dodge for over 20 years! When he is not helping the dealership or customers, he is restoring old Mopar muscle cars with his son & grandson.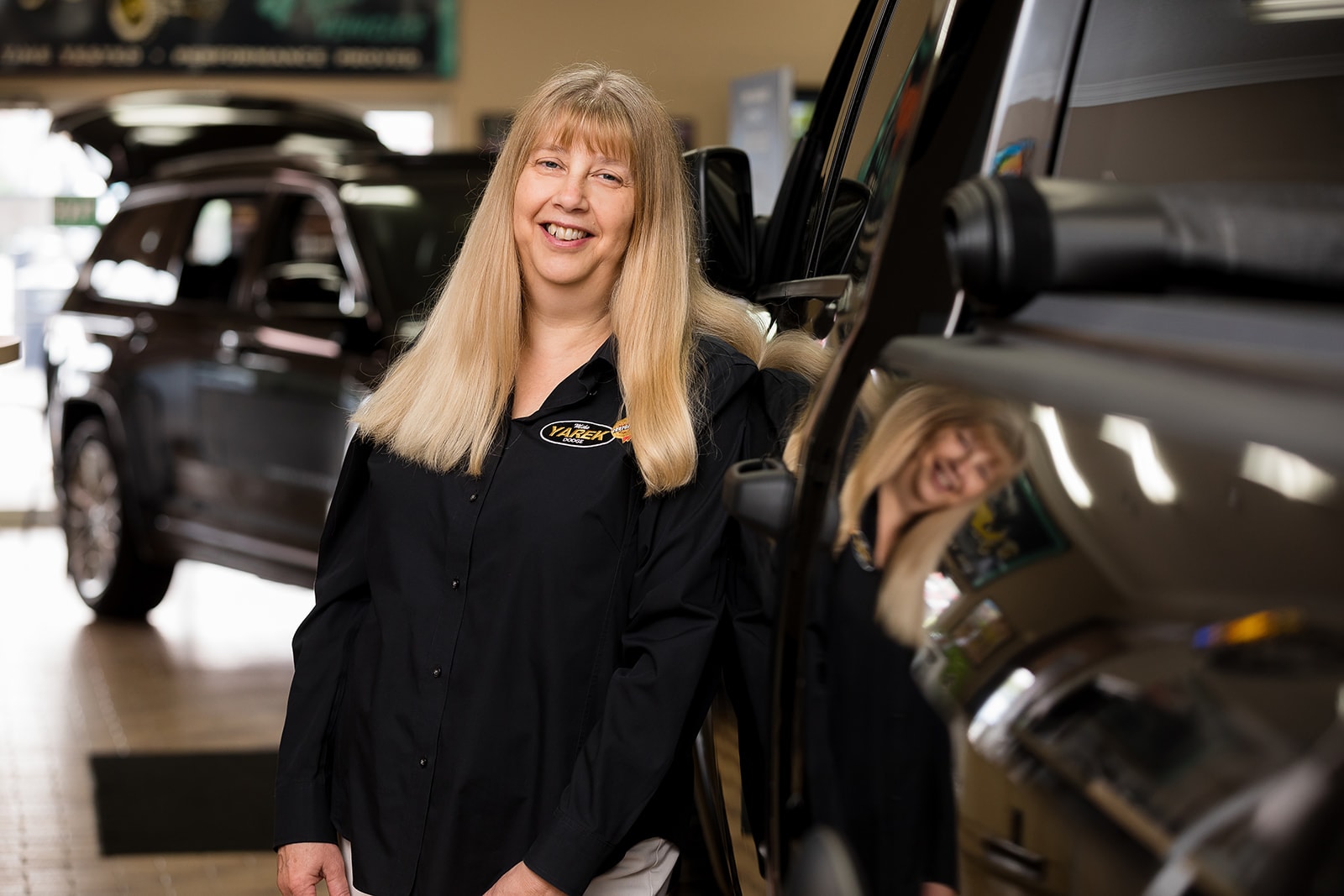 Cathy Raycraft, Controller
Cathy is a true country girl raised outside of Princeton, Ontario. She married her wonderful husband Joe 30+ years ago, and they made the move to lovely Paris where they raised a very active and outgoing girl, Kate who now has a beautiful family of her own. 
Cathy has worked with Mike Sr & Ted since the beginning (when we were Mike Yarek/Covey Dodge in the 90's) now.. Mike Yarek Dodge. She is our 'Work Mother' meaning you can always find someone at her desk sharing a story or asking advice. Cathy also has two 4 legged children Chloe and Cookie & she loves ANYTHING AND EVERYTHING Disney. She travels to Disney 2-3 times a year.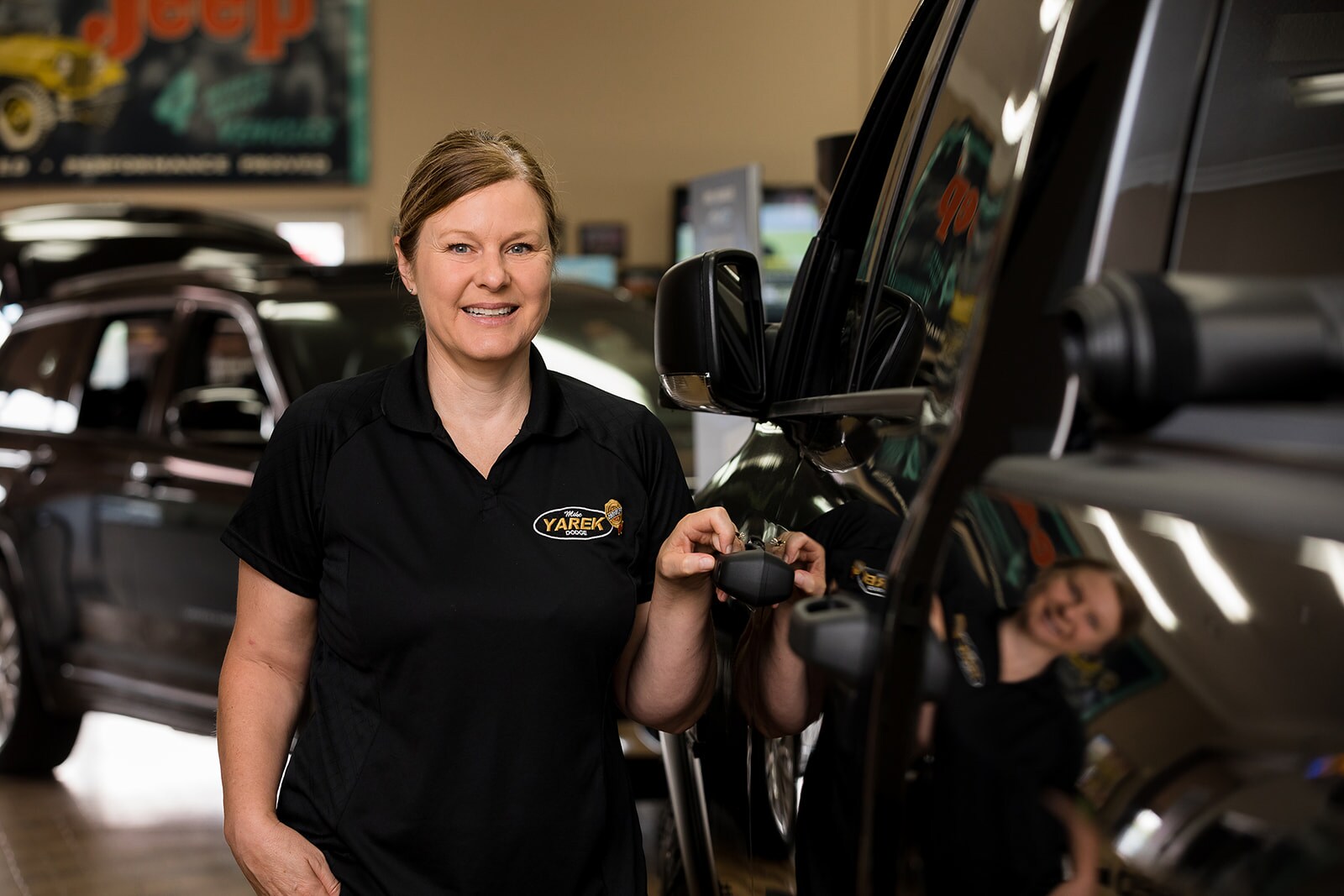 Kristina Blandin, Finance Manager
Kristina is originally from Hamilton, Ontario. She made the move to Brantford with her spouse Dave in 1996. Kristina worked in customer service for many years before joining the Mike Yarek Dodge team in March of 2005 as a Sales Consultant. Kristina's hard work and dedication landed her the Financial Manager position.
Kristina is the mother of 4, Nichole, Dillon, Abbey and Leslie. She was upgraded a few years ago to Grandma to two wonderful boys. Kristina loves spending time at car shows, the gym and eating ice cream sandwiches at the beach with her grandson, Carter.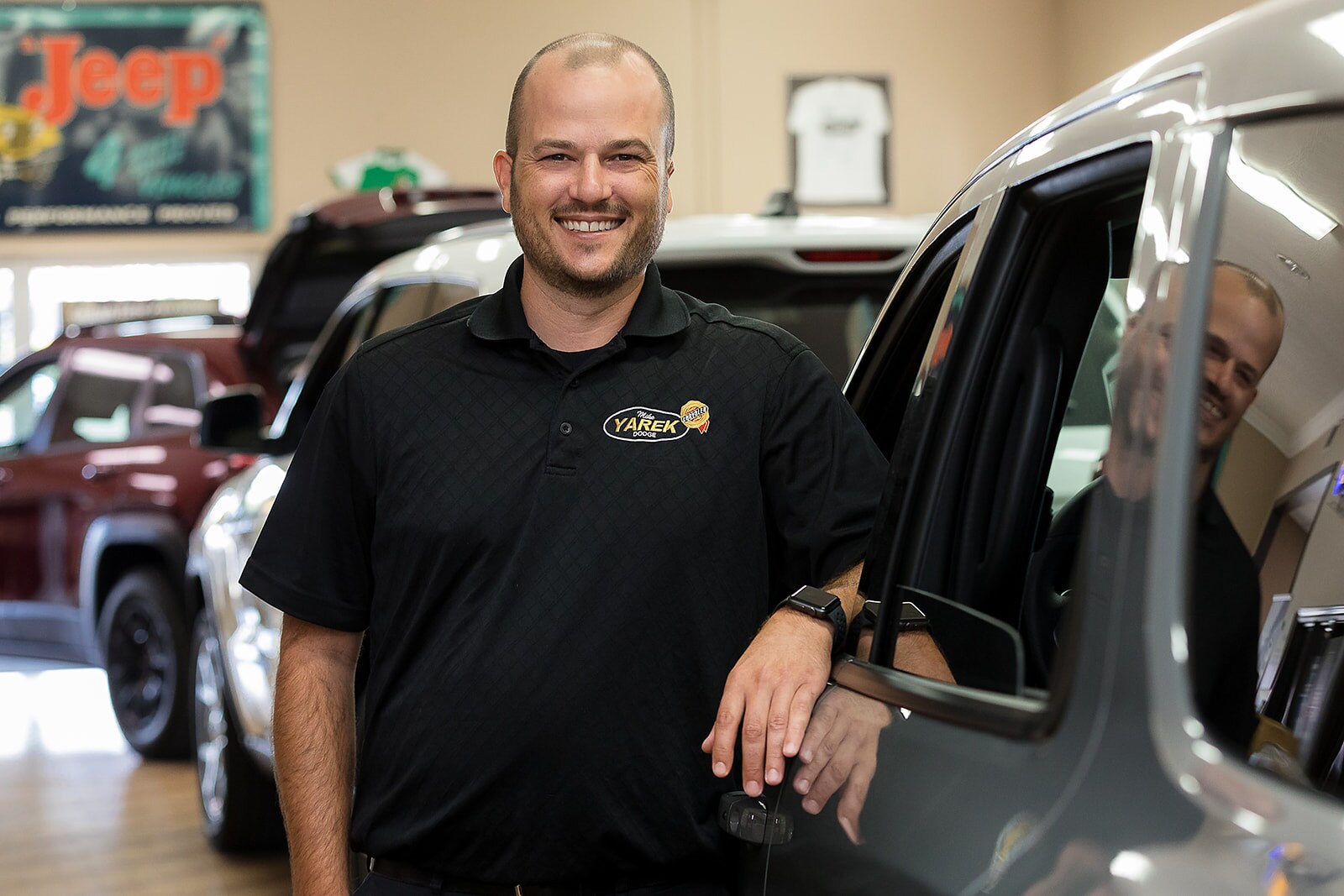 Andrew Curry, Service Manager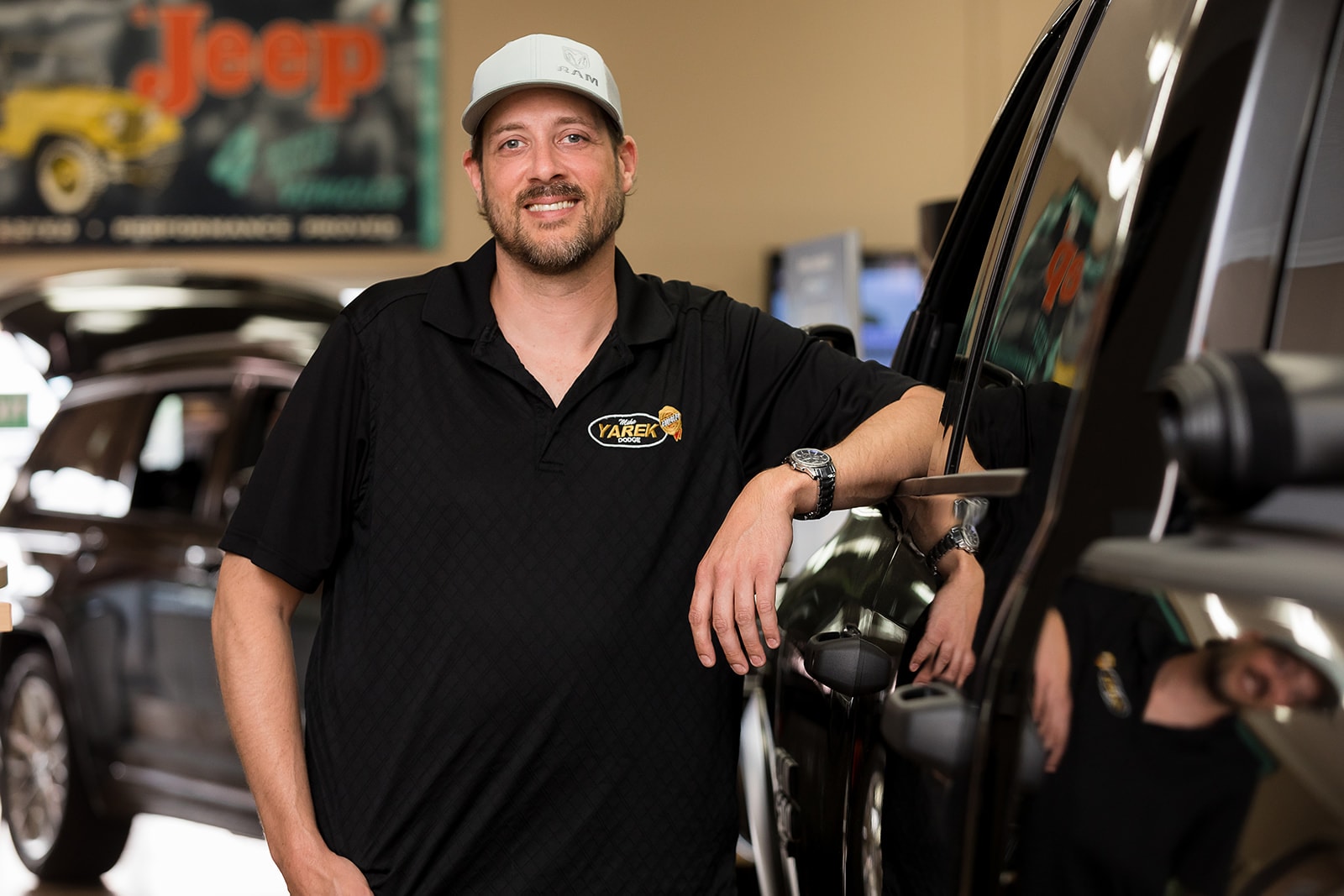 Chris Glyde, Parts Manager
Chris Glyde has been here at Mike Yarek Dodge since Spring 2016 and comes to us with a great deal of automotive parts experience. His resume includes Japanese, European and Domestic automotive manufacturers that do business in the Kitchener/Cambridge/Waterloo region.
Chris' energetic personality is perfectly suited for us here in Paris as we are excited to see what the future holds and the leadership potential he is capable of.

You can find Chris at aftermarket car meets in the surrounding areas and is 
always informed on the latest and greatest components available from our Mopar Parts Department.
Reach out if you have any questions regarding your vehicle and he will be happy to help.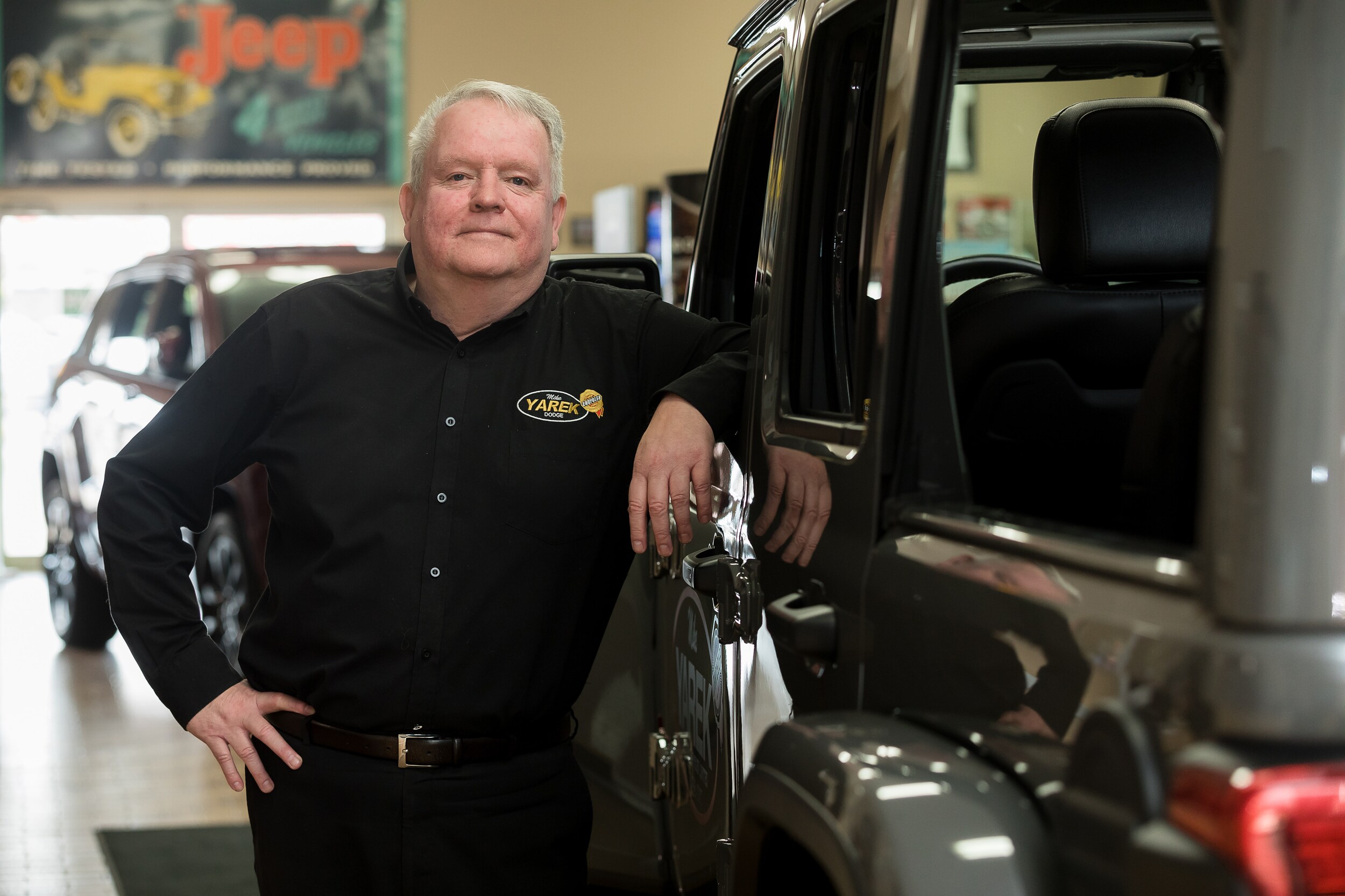 Chris "Cubby" Cushing, Fleet Manager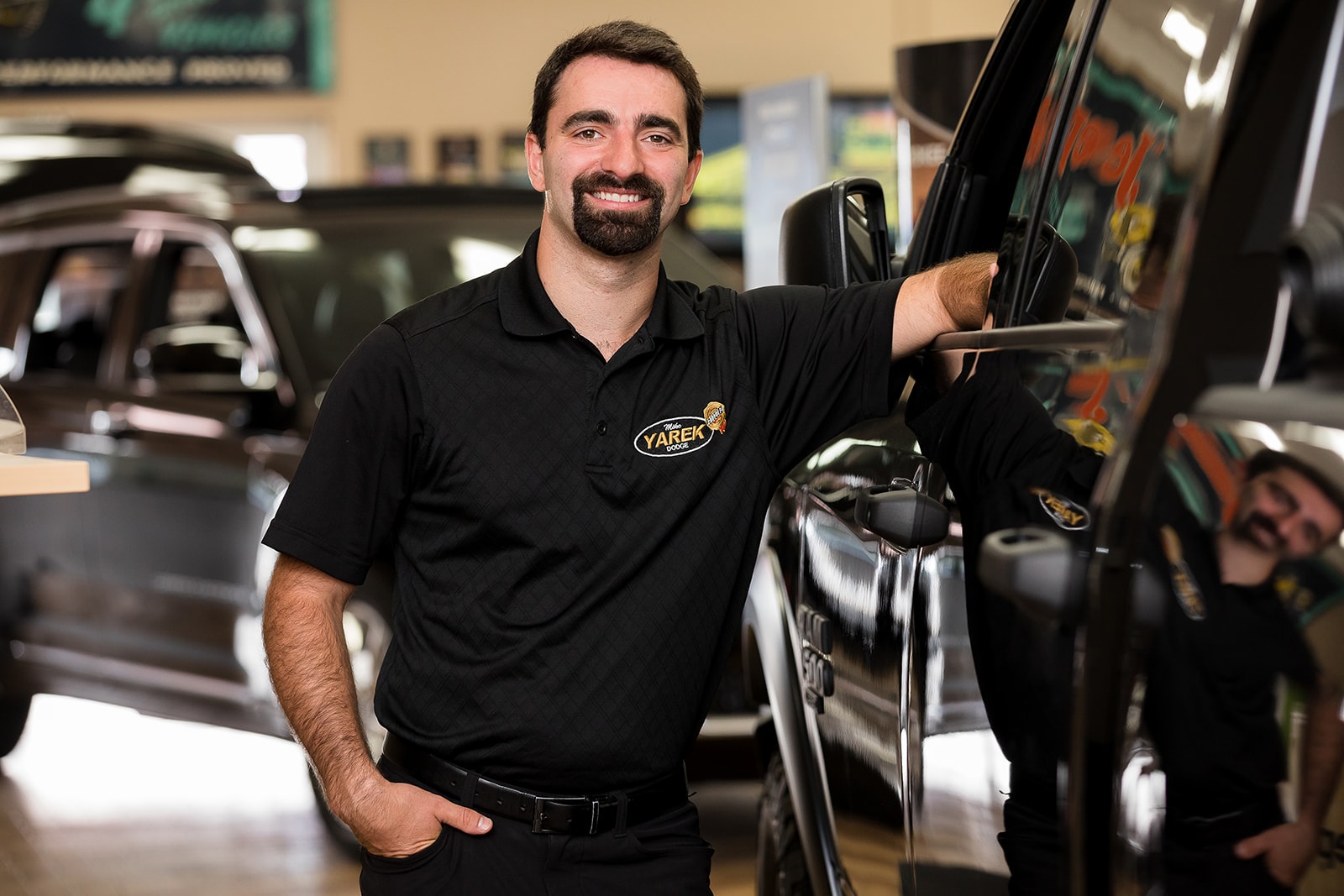 Mark Yarek, Pre-Owned Sales Manager & Purchasing
Mark has been around the dealership for as long as he can remember starting from helping his dad and older brothers clean snow off vehicles, even on Snow Days away from school. 
His automotive knowledge is continuing to build as he is being mentored by Ted, whom is teaching him the ropes of buying and selling at the auctions. 
Ask Mark about his hikes in Iceland, the views from the Portuguese coastlines or the mountains above the clouds in Austria & he will tell you about it all. This young' chap seeks adventure with any spare time he gets & we don't think the travel bug in him is going away.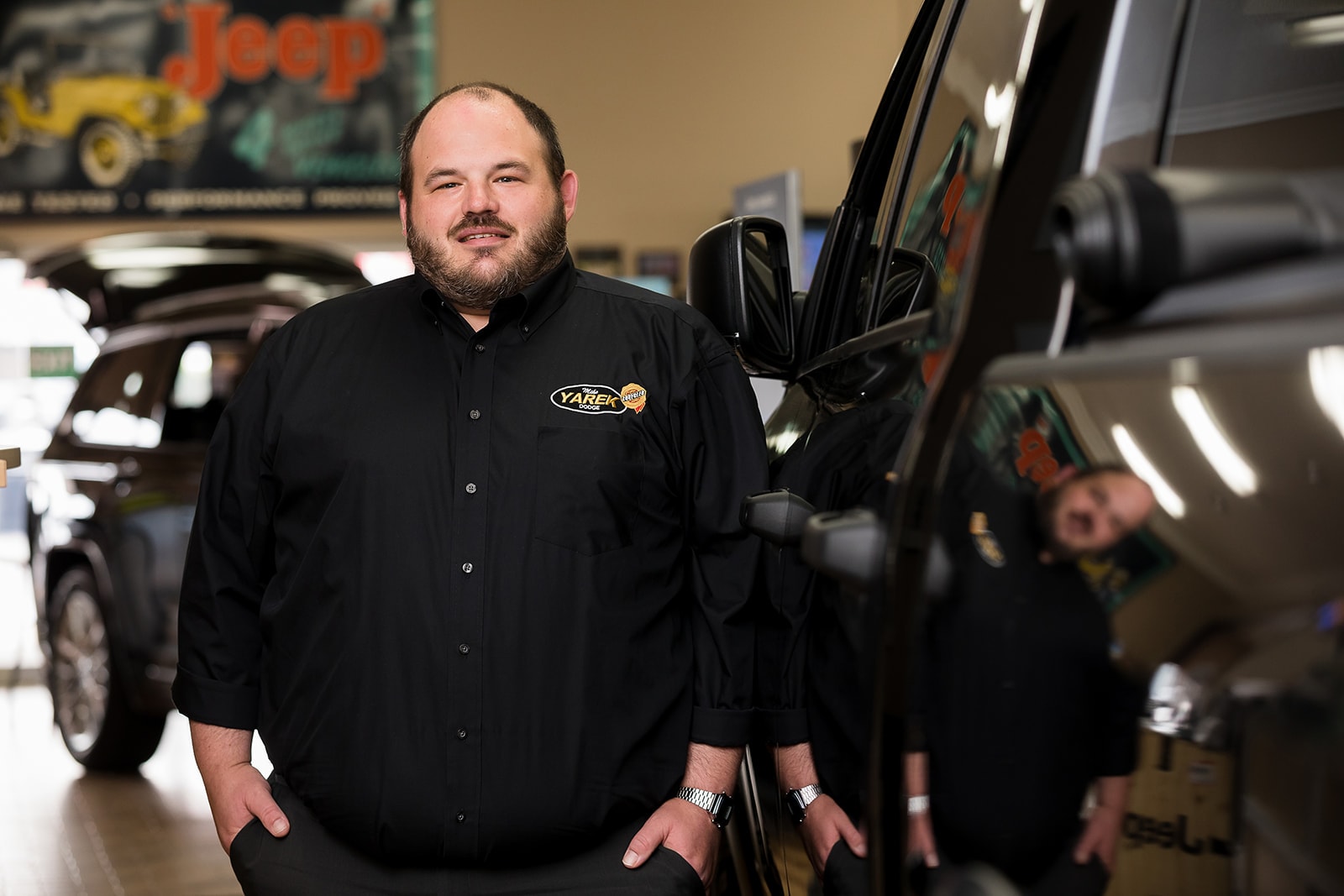 Dan King, Sales Consultant & Online Marketing
Dan is the youngest of 3 brothers & he lives in Brantford with his wonderful spouse of 10+ years, Sherri & their beautiful daughter Charlotte. They also have an adorable four legged furry baby Penny. 
Dan has been in the sales industry since 2001 & has managed stores in prominent retail chains in Ontario. Dan grew up in a loving Chrysler/Dodge family which made his journey at Mike Yarek Dodge in January of 2014 that much easier.
Dan loves music so much that if you name an artist or an era, he can tell you all you need to know. Not to mention his understanding of the art of music too. He was born with a gifted mind so this is who you take to Trivia Night, but more importantly he always goes above & beyond for his clients to ensure an excellent experience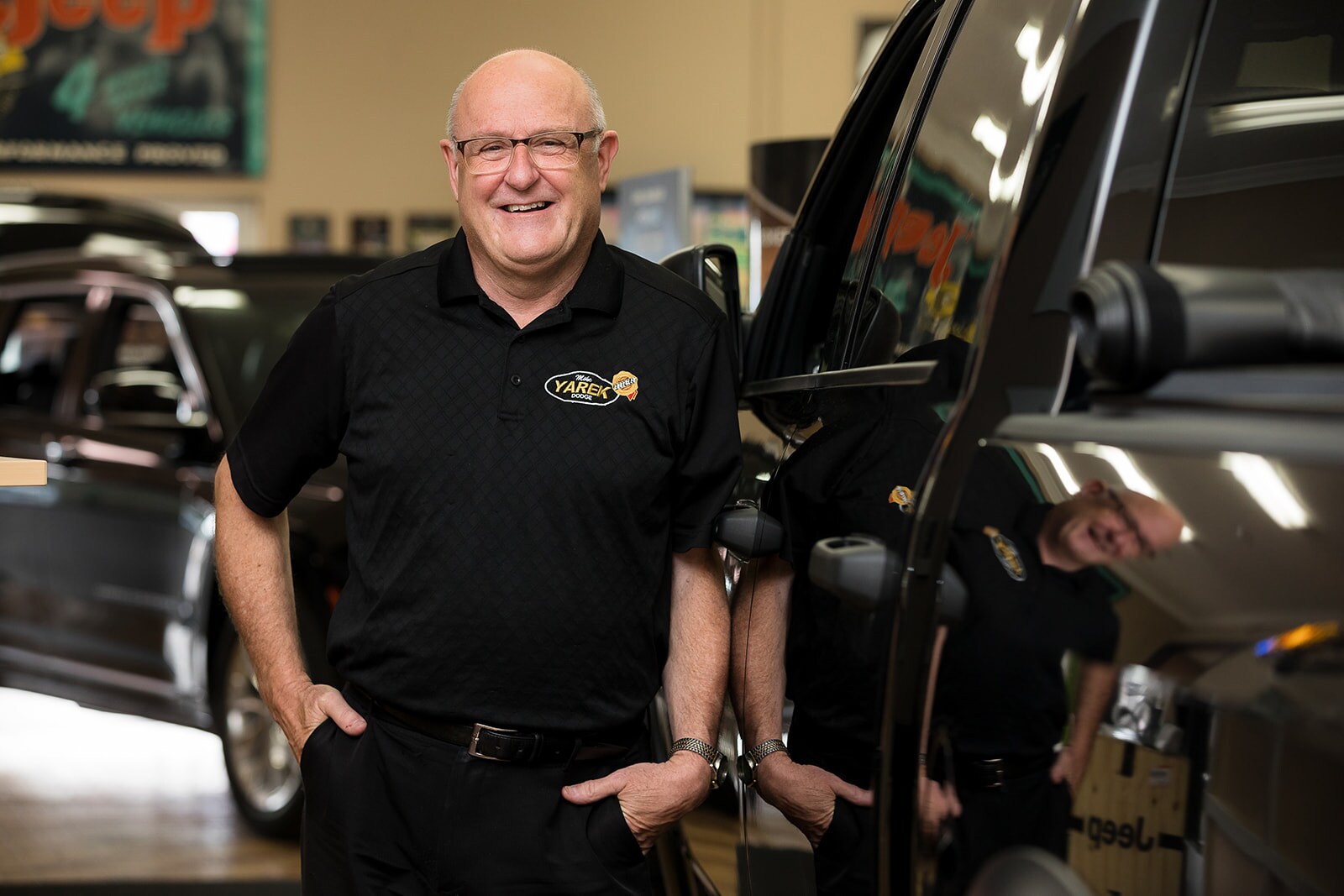 Dave Cooper, Sales Consultant
Dave is the newest member of the sales team at Mike Yarek Dodge, having arrived in February of 2015. A former Hamiltonian who moved to beautiful Paris in 2010, Dave brings his enthusiasm for customer service after successful careers in the manufacturing and retail environments traveling as far as the Middle East to conduct business. 
Happily married for 40+ years and counting, Dave and his wife are the proud parents of a daughter who is a local elementary school teacher, and has a son hired by one of Canada's prestigious universities working in Facilities Management in BC. 
Hobbies and interests include flying, sports, current events, history, a number of creative activities and paddling down the Grand when the warmer weather arrives.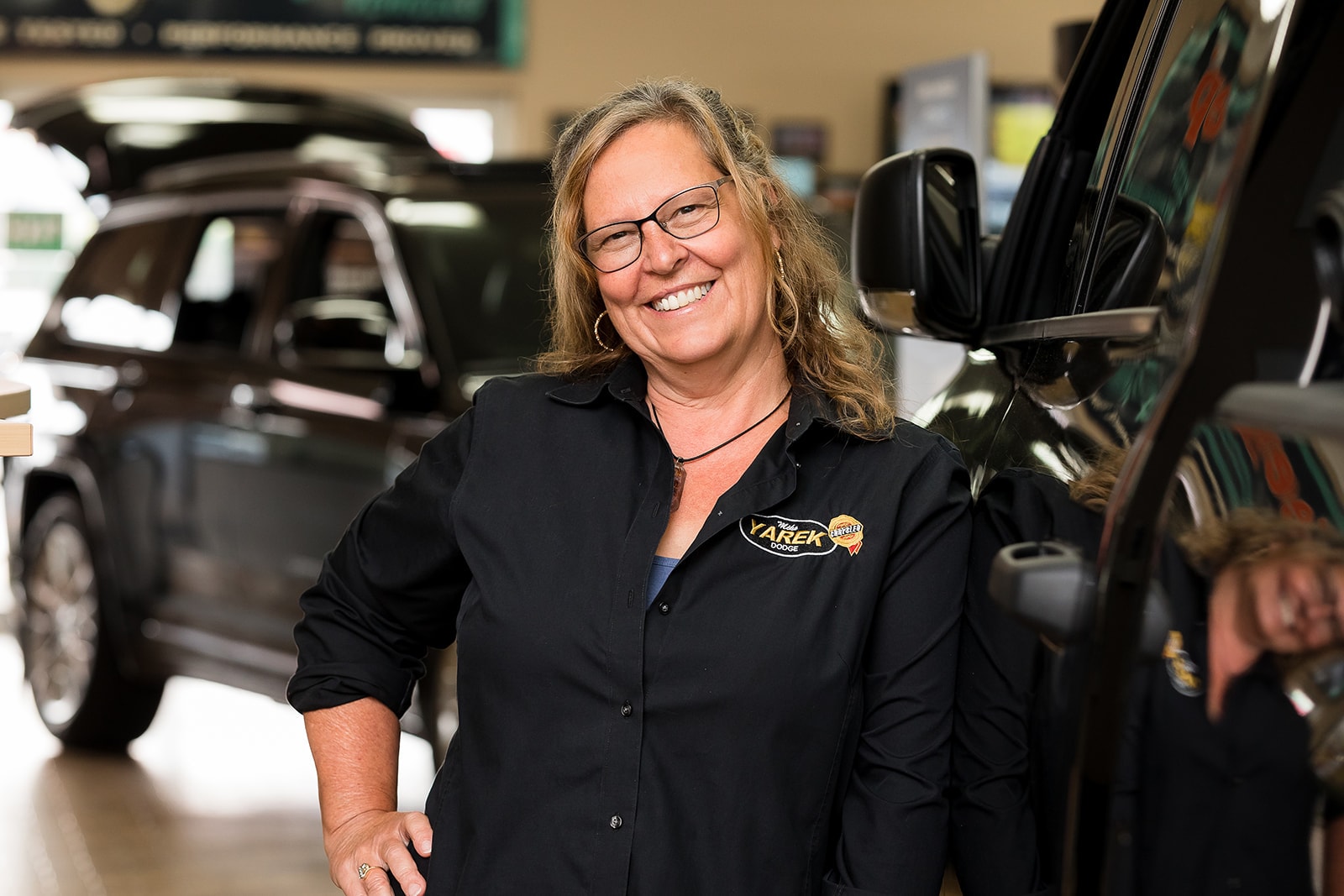 Michelle Marshall, Office Administration
Michelle was born in Calgary, Alberta and moved to Paris in 1987. Michelle has been married to the love of her life for 30+ years and has two wonderful worldly boys Chad and Shawn. Michelle worked in insurance for 10 years prior to joining our team in September of 2008.
Michelle loves getting up at the crack of dawn to take her two King Charles Cavaliers, Gracie and Jude for walks. Michelle loves cooking, and spending time with family and friends by the pool.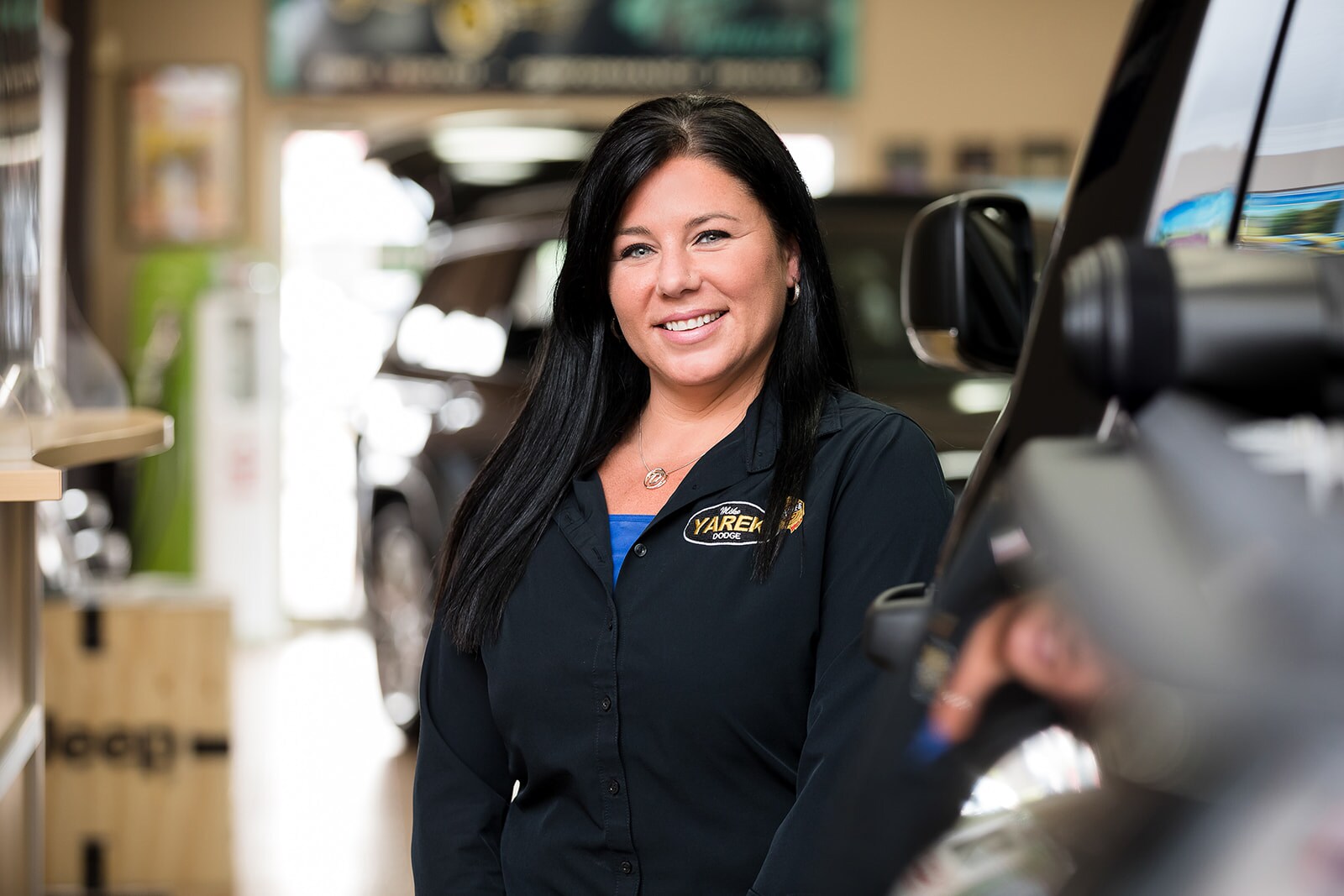 Lindsay Smith, Service Advisor
Lindsay was welcomed by the Mike Yarek Dodge team in the Spring of 2016 and we couldn't be more excited . Her abundance of enthusiasm, and non-stop laughter is refreshing and enjoyable. She has a great deal of experience working with dealerships, as she was the smiling face at the local Service Ontario where she learned about licensing, ownership's, etc.
When you call into our store there is a good chance you will hear from Lindsay and we can promise you a soft but excited voice. 
You can find her in the Kawartha's on her weekends with her family enjoying the open water & warm camp fires with a glass of wine! (& attempting to fish)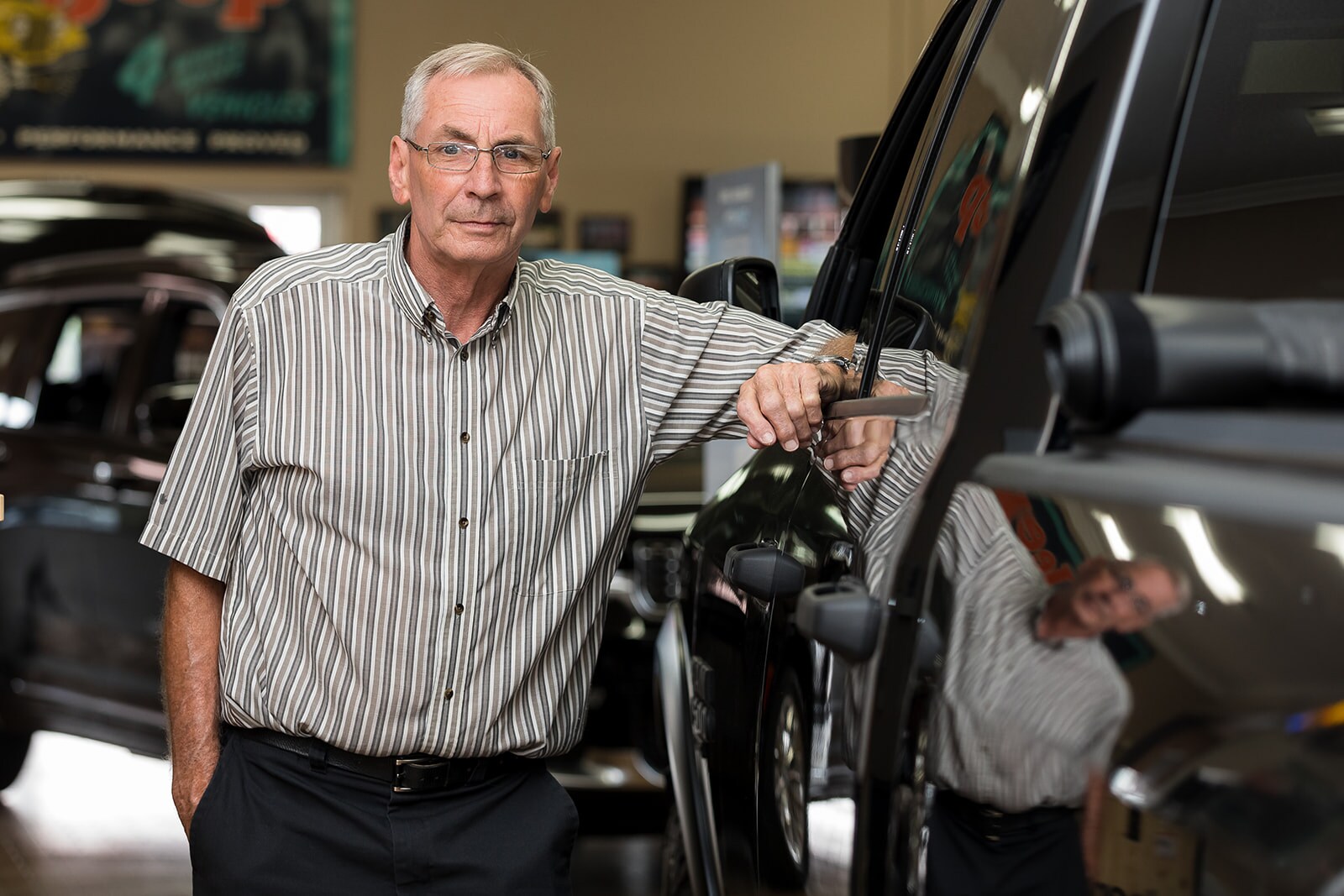 Maurice Litchfield, Expediter AKA- (The Man who can do it all) 
Maurice is a known automotive legend in Brant County, as he has served the community with incredible customer service for nearly four decades. He actually met Mike Sr as a teenager when Mike was looking for his first car! 
His large family spans across South Western Ontario where he and his family love to hit the open road to visit them.
Moe' looks after the general maintenance of the dealership & helps keep this 'ship sailing'. Whether it be calling the contractors to upgrade the lighting, service our back-up generators, plumbing, electrical etc. He is the man in charge of it all. Without him, we wouldn't know what to do! 
There is a good chance you will bump into Moe' at a local golf course having a blast with his long-time pals.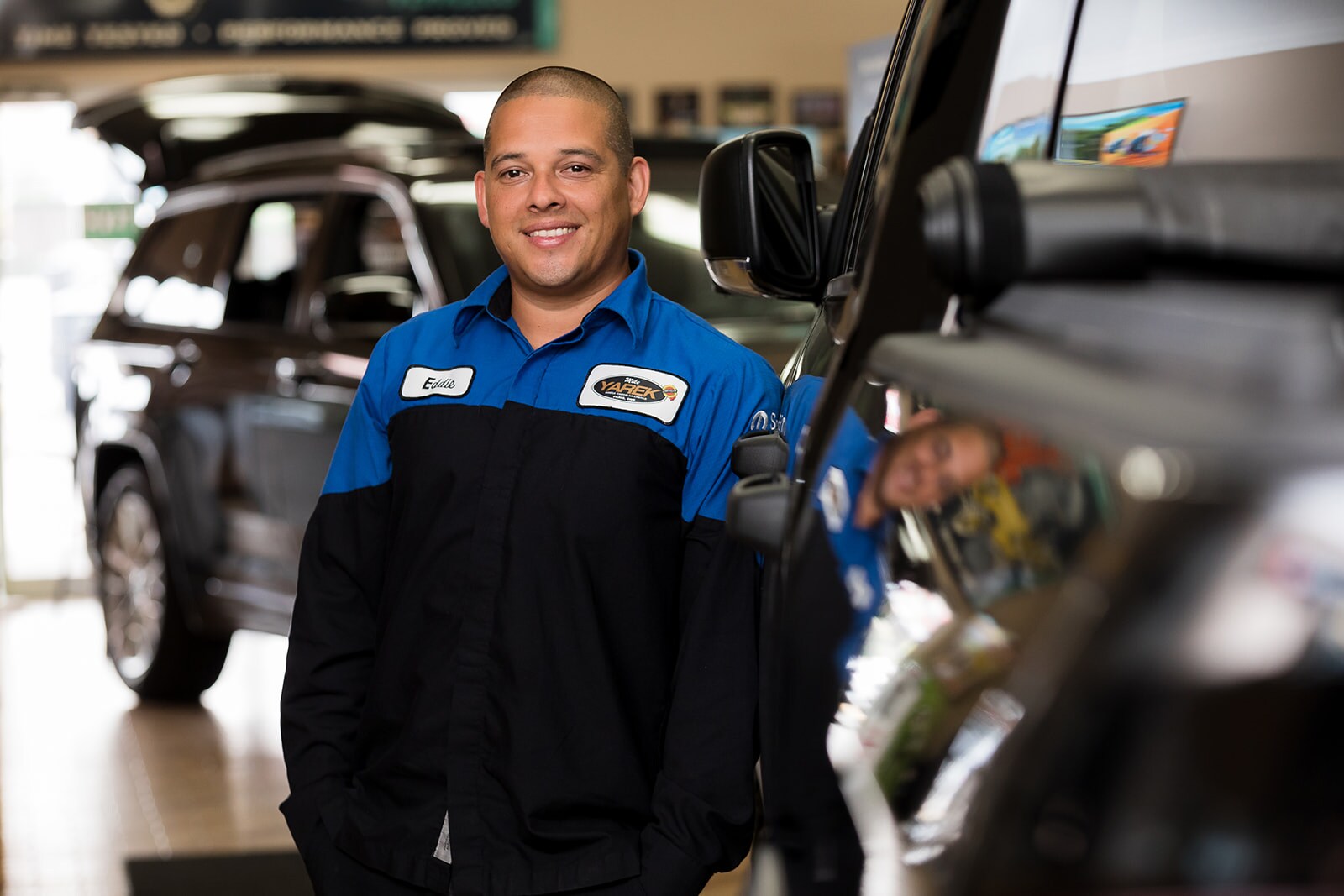 Eddie Rayoff, Detail & Ceramic Coating
Eddie joined our team not long ago & has been a staple in our success over the years by correcting imperfections in the paint/body, detailing & also his expertise in Ceramic Coating! He has traveled to beautiful countries such as South Africa with friends & has made memories he will never forget. 
He & his wife reside here in the beautiful town of Paris, Ontario with their cute pups that are a joy to look after. If you're looking to spend time with Eddie, there is a chance you will find him wizzing around the countryside in his Hayabusa motorcycle!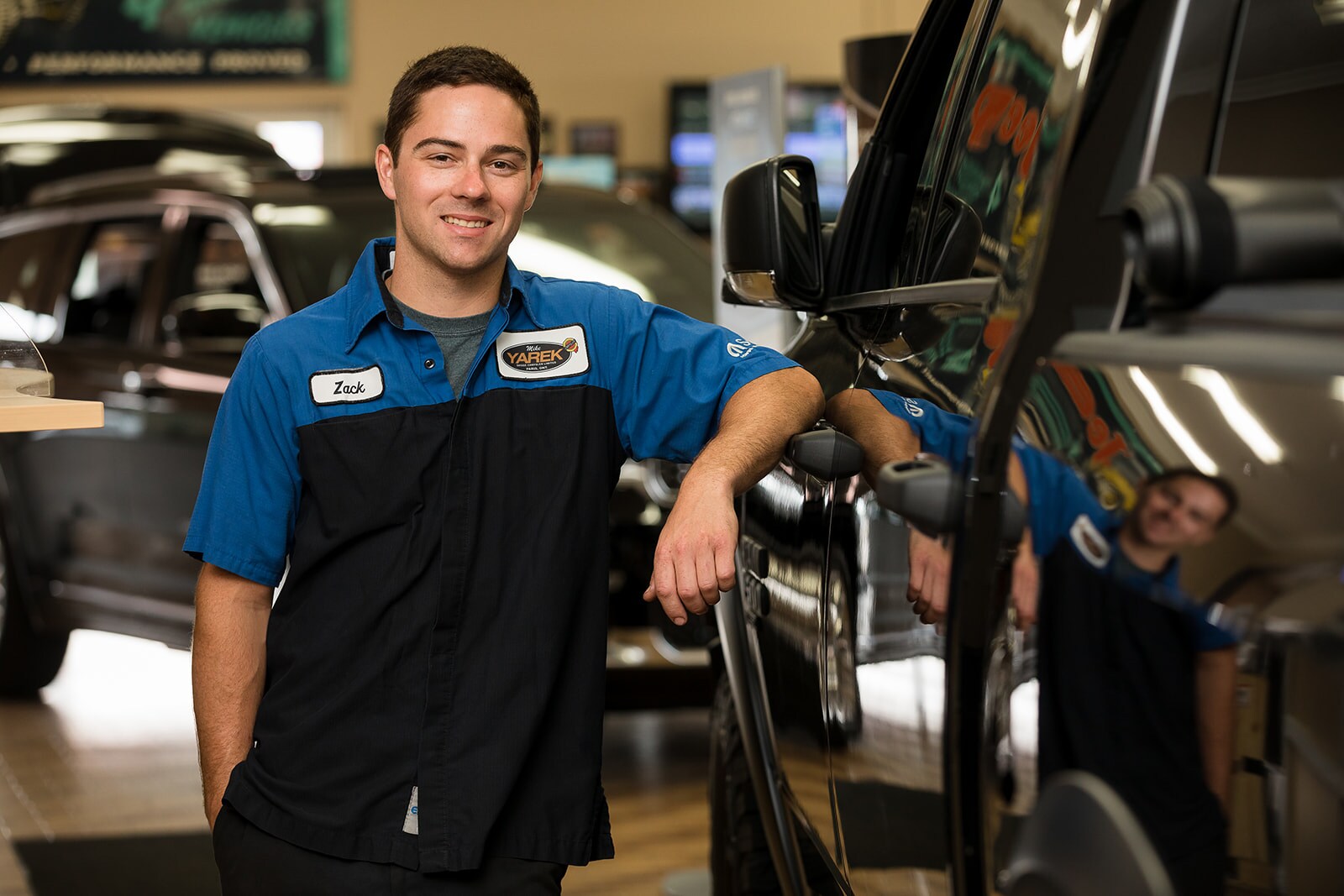 Zack Nancekivell, Automotive Technician 
Put it this way, there isn't much Mr. Zack here can't fix! Born & raised in Brant County, he has a great deal of experience repairing small engines from his time spent on motorcycles and snowmobiles in his teenage years. This allowed him to develop skills needed to repairing automotive engines & transmissions. 
Zack is the father of two beautiful sons & a daughter, who are evidently taking after his 'craziness' in more ways than one, one being the thrill of speed on off-road vehicles! 
If Zack isn't servicing your vehicle, he is spending time around home with his future wife, Courtney, or up north with his family doing all sorts of fun & wild activities.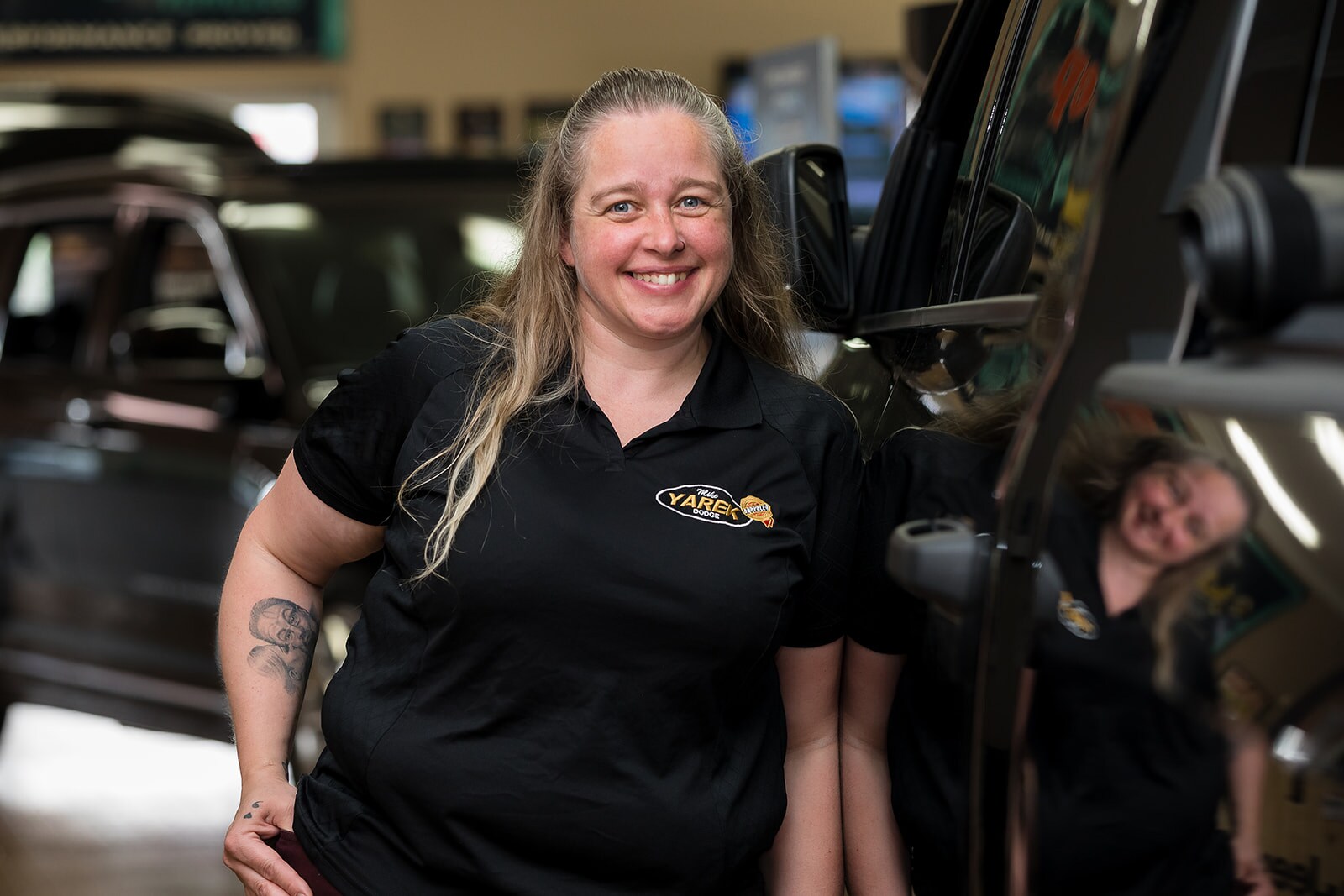 Jenn Brink, Service Advisor
jennifer@mikeyarekdodge.com
Jenn joined our team just a few years ago & her upbeat, positive attitude it just what our customers need when they come to visit us. She works her butt off & always strives to do great work for our customers. 
She is happily married with two children that LOVE her Jeep Wrangler & her husband Henry's massive 18-wheeler. 
She has travelled thousands of miles around North America with Henry exploring the beautiful landscapes and scenery of Canada & the United Sates. 
What's one of Jenn's favourite things to do? Heading off to SPARTA "The Big Rig Truck Nationals" with her family.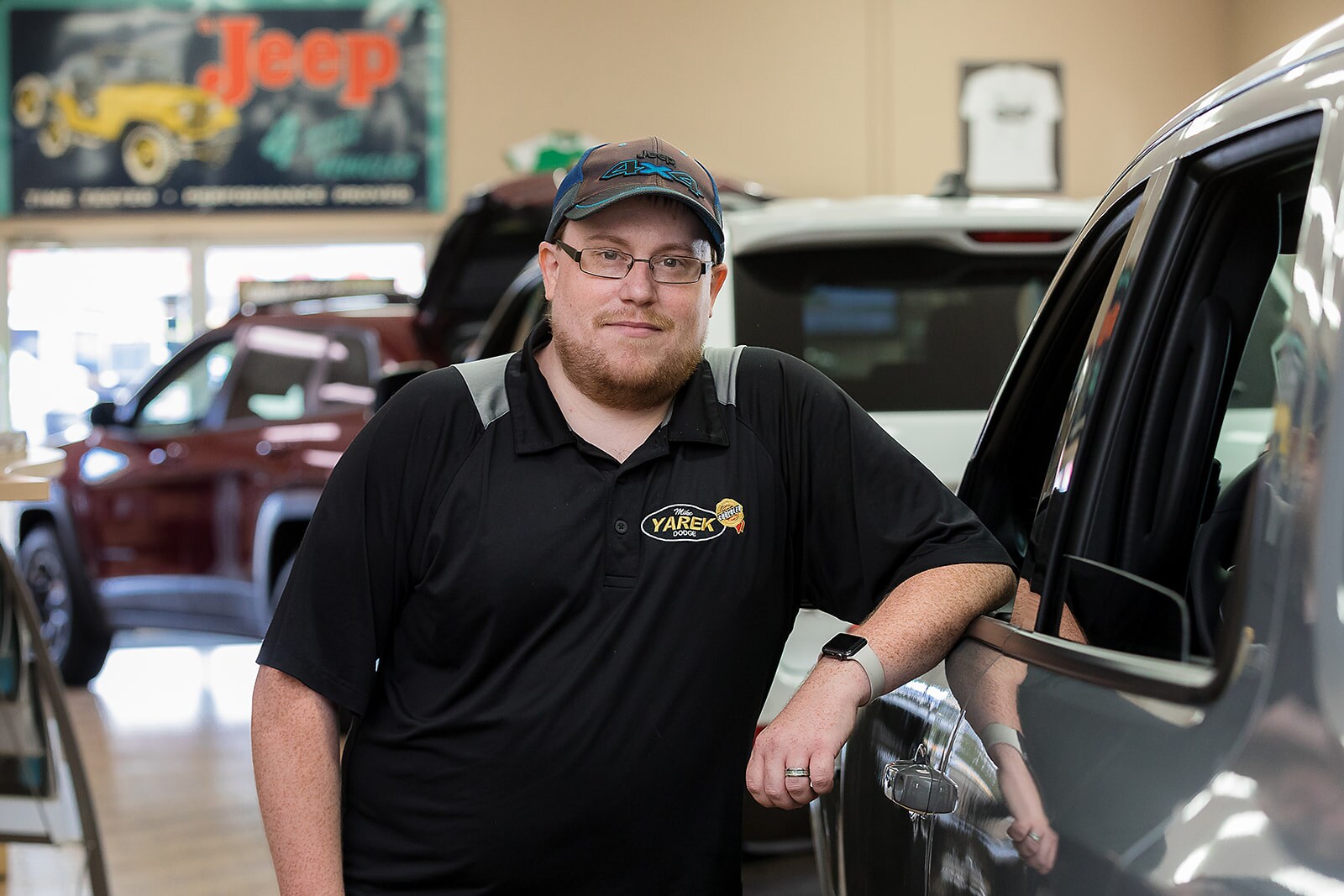 Mark, Parts Advisor
.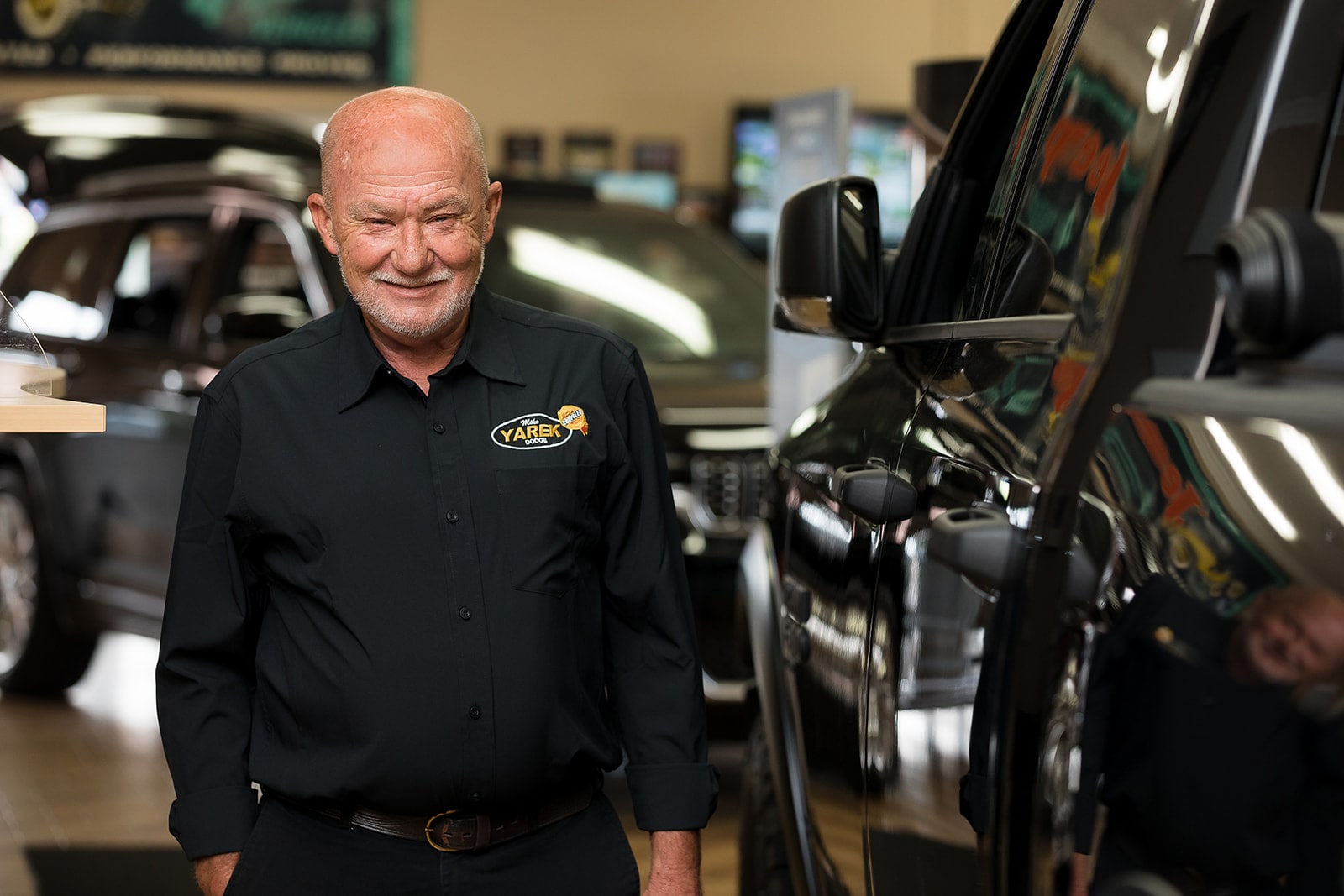 Roger Vandendriessche, Parts & Warranty Administrator
Roger has been happily married for 40+ years, and lives with his wife Penny down on Lake Erie. 
Roger has 2 children working in the Automotive manufacturing industry and 4 younger energetic grandchildren.
Roger has 40+ years experience in the automotive parts and service industry and has worked with a Chrysler dealership since Sept 1979. Over the years he has been awarded a number of times by Chrysler Canada for his achievements in parts excellence and customer service including trips to Dominican Republic and Acapulco Mexico. In other words, Roger is an encyclopedia of automotive knowledge that we are honoured to share time with each day!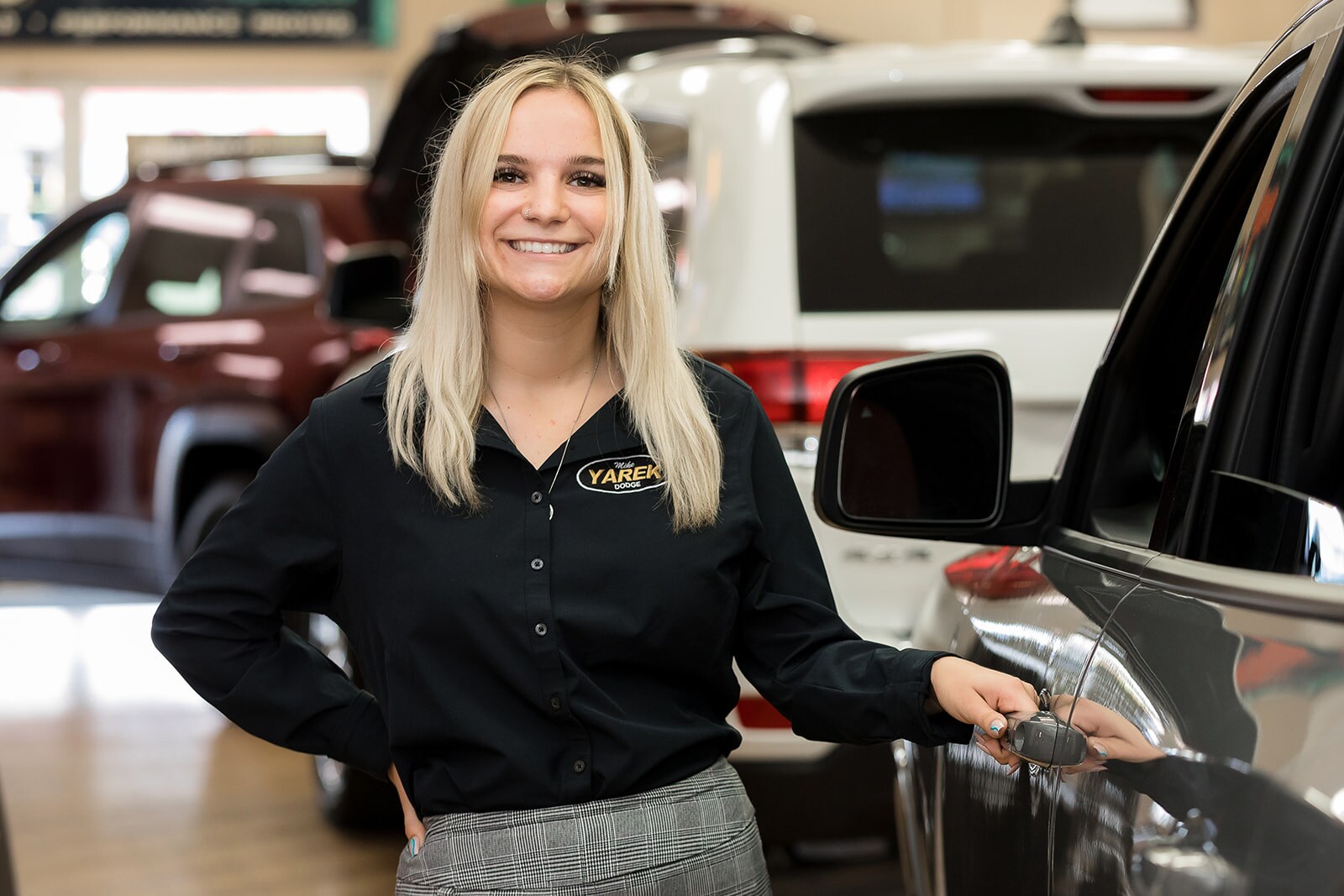 Mercedes Yarek, Sales Consultant
.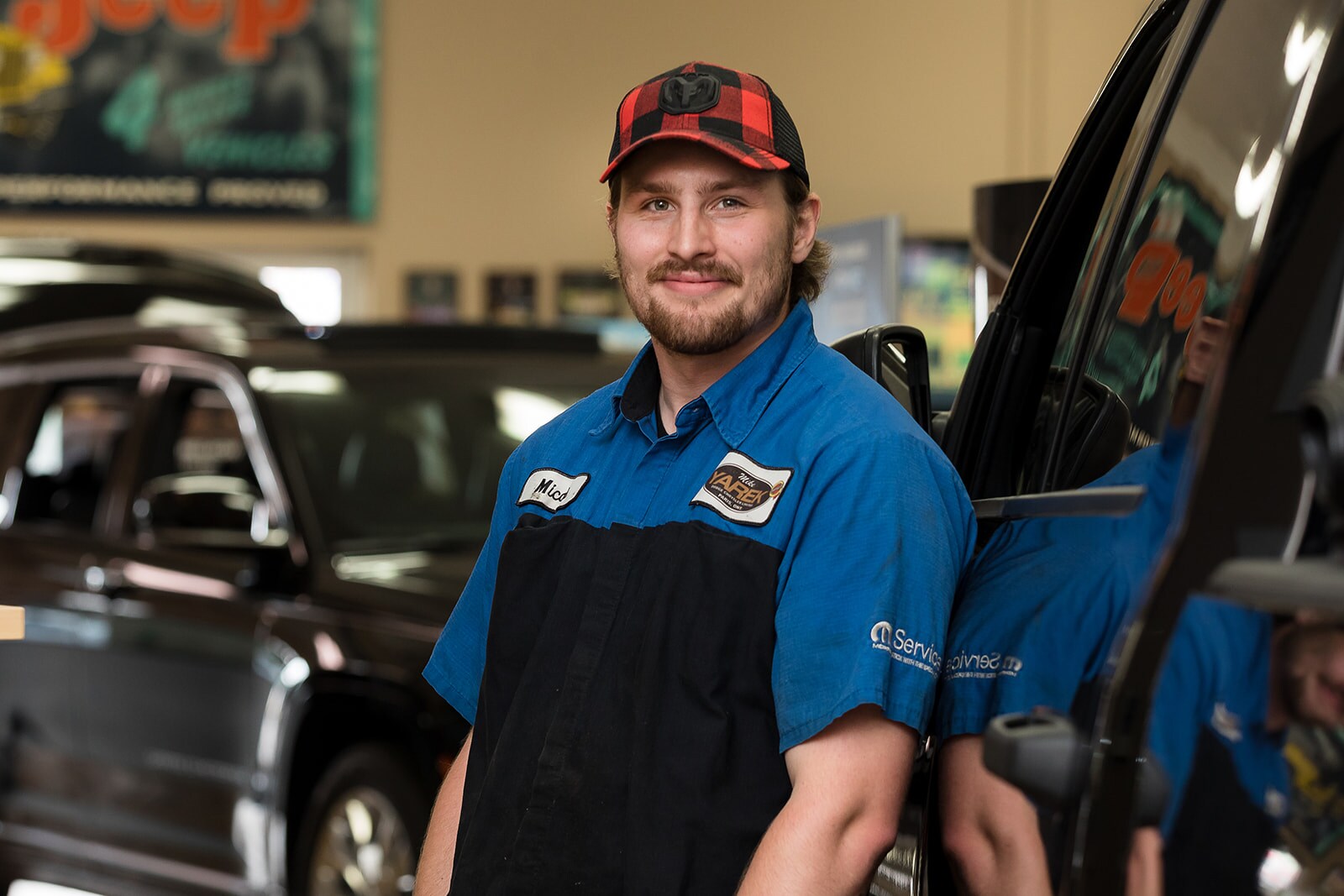 Micah Telfer, Automotive Apprentice
This wild fellah Micah comes from a massive family in rural Brant County, where he & his countless brothers learned trades in their youth. His depth of knowledge at a young age makes him a valuable asset here in our Service Centre. 
When Micah isn't here at the dealership, he is somewhere trying to play the game of hockey with his friends & family. Also... if there is a lifted JEEP or RAM to be built, he is often the man for the job. 
Side note.... he was raised to be a Chevy fan, but we have slowly converted him to the dark side.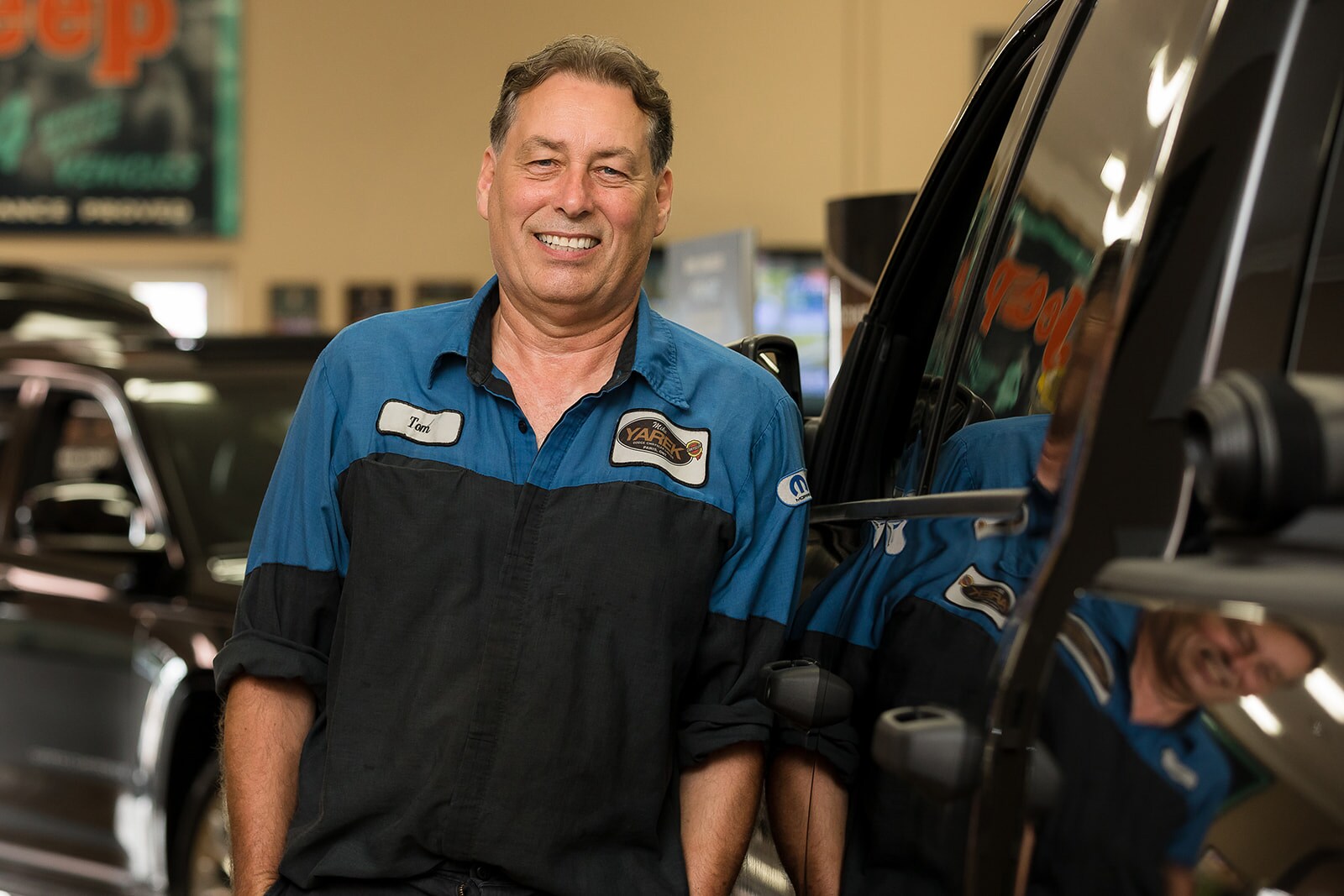 Tom Sherk, Veteran Automotive Technician
Mr. Tom Sherk has a history with Chrysler & Mopar long before he was a young boy. His grandfather started a Dodge/Case dealership in the big city of Ayr, Ontario in 1930 & by the time Tom came around, he was hooked! Having 'hung out' in the shop since the days he could walk, he has spent more time around legendary vehicles such as the Cuda's, Challengers, Darts, Vipers etc, than anyone we know!  
So yes, if Tom is the man diagnosing your vehicle, you can be assured he has the knowledge & experience to get you fixed up! 
If you name a state or city in the USA, Tom has more than likely been there. This man has travelled countless hours to drag strips & automotive conferences around the continent, one being a VIP experience at the Carol Shelby Heritage Museum in Las Vegas, Nevada (which at the time was not open to the public)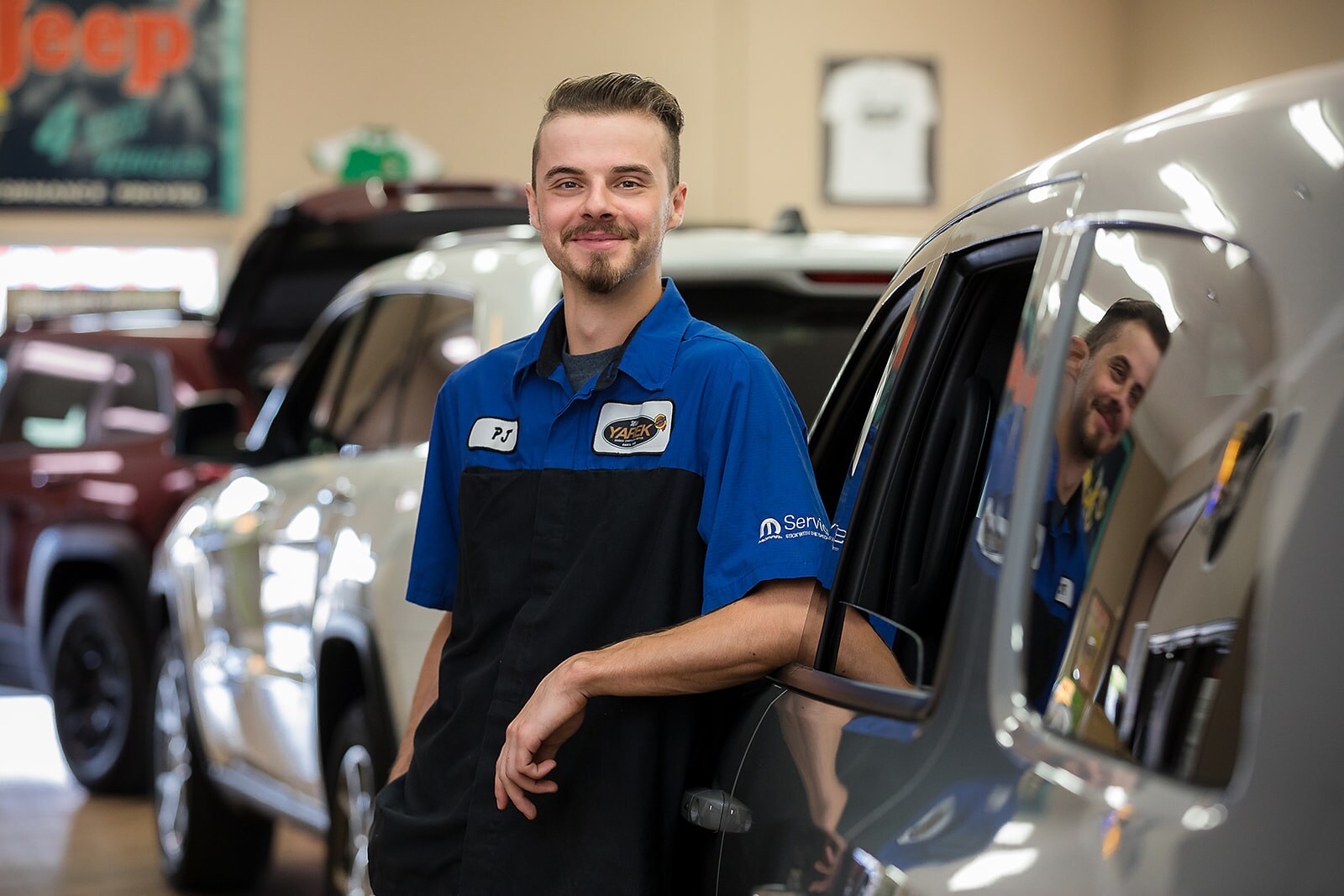 PJ, Automotive Technician
.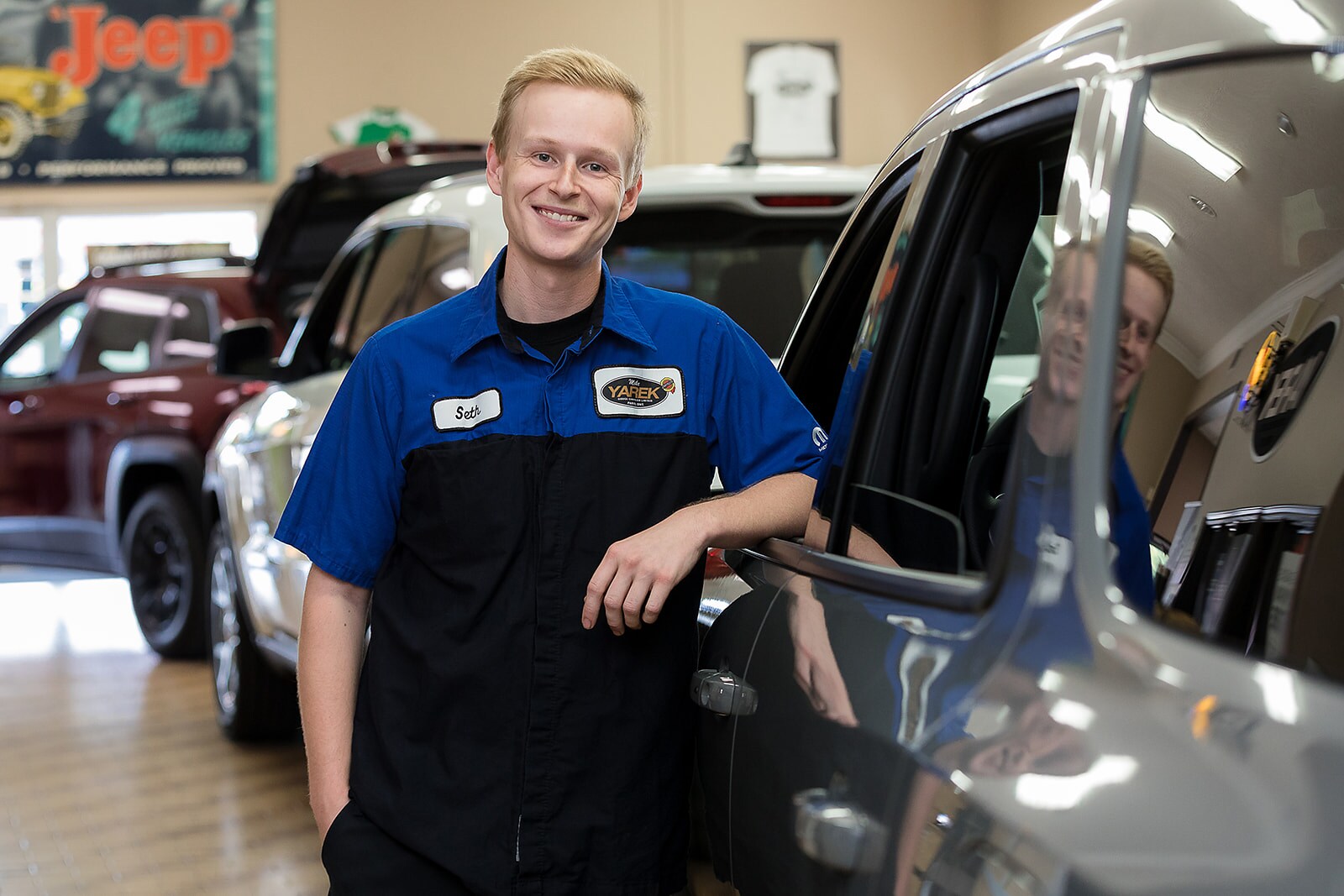 Seth Duebeck, Autmotive Technician
.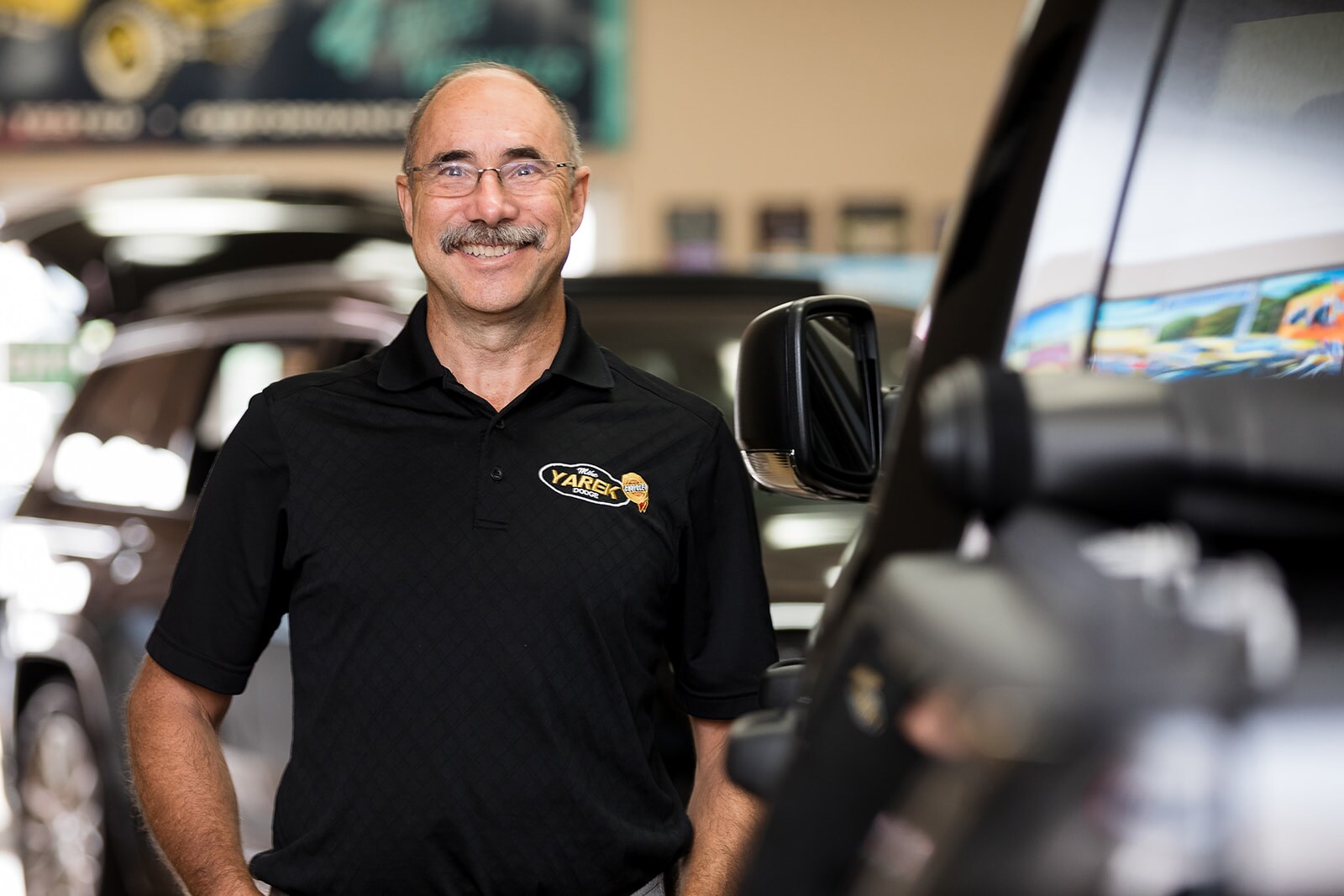 Paul Steeds, Shuttle Driver
Mr. Paul Steeds retired from an extensive career as a Mechanical Engineer with projects that lead him to various locations around the world! He & his beautiful wife live along the Grand River in the Brant County country-side. 
What does Paul do on his spare time? He rides thousands of kilometers each year on his bicycle training for races & events in Europe! He doesn't mess around. 
What's his favourite drink? A MOCHA!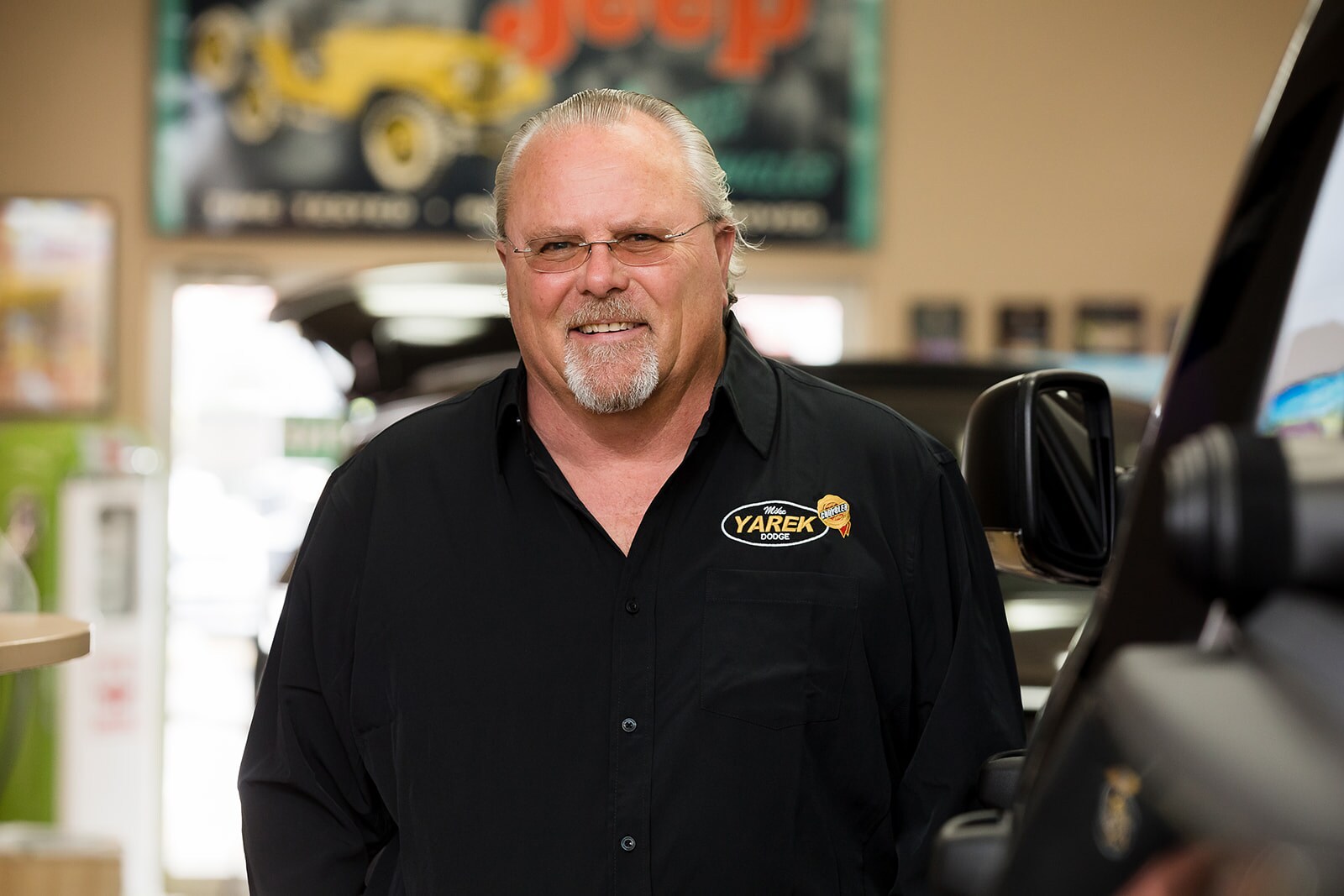 Joe Raycraft, Shuttle Driver
There isn't much Joe hasn't done or doesn't know! This man here has 'been around the block' in terms of his knowledge not only about the latest news, but all that he has learned in his years before retirement. Having worked for CN Rail & Superior Propane for countless years he understands 'big industry' & it's interesting to hear what his view is. 
It's not uncommon to be anywhere in public with Joe & hear "Hey Joe" "Howdy Joe, how you been buddy?" (This man knows everyone) 
If you're wondering, yes, he is Ms. Cathy's husband so he too enjoys a vacation down to Florida to visit Disney Springs to catch up with their countless friends. 
When Joe isn't here you can find him on a golf course a few days a week enjoying time with friends & family.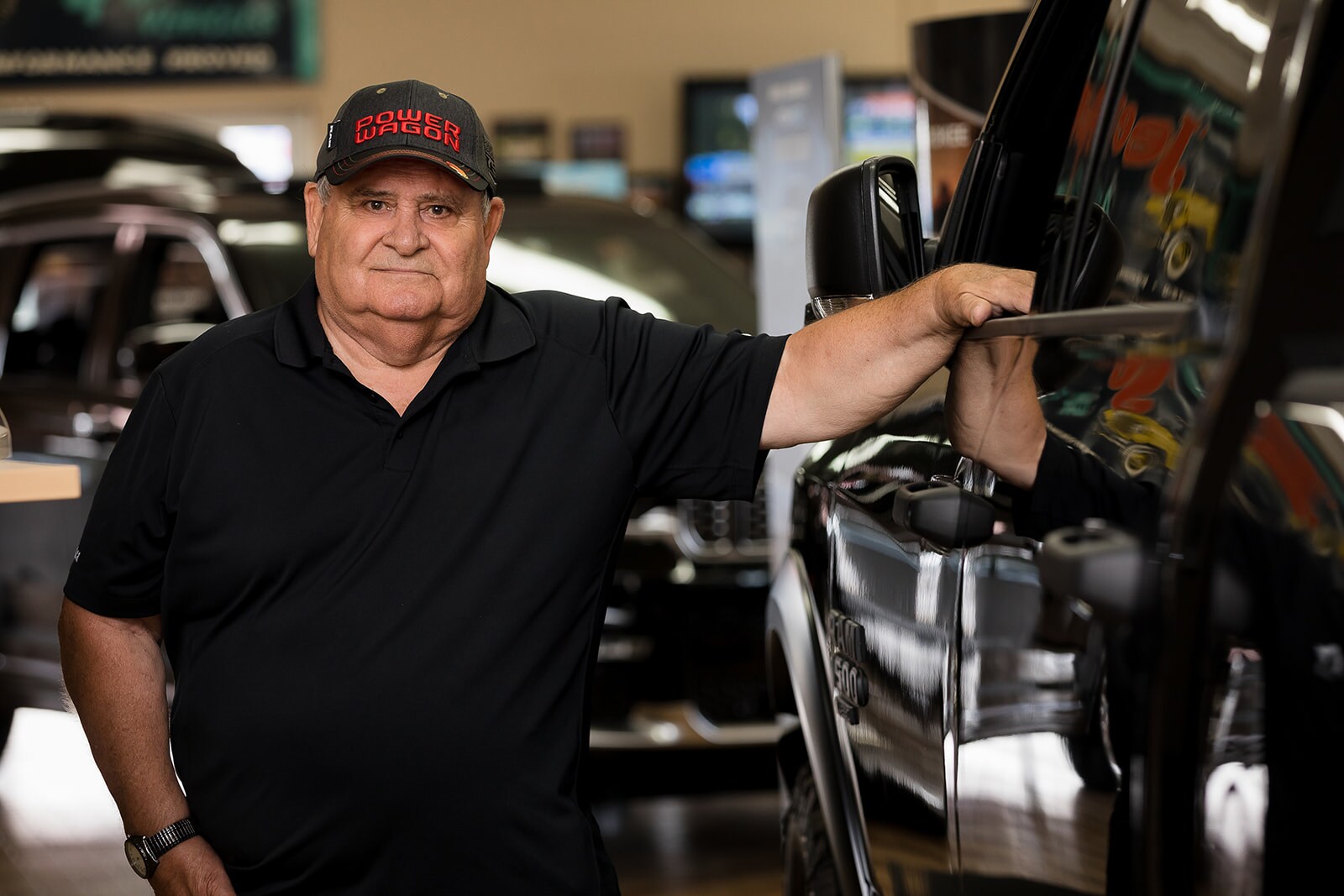 John Raycraft, Shuttle Driver
Mr. John Raycraft also has a long history & unique stories before he became a member of Mike Yarek Dodge. In his past life, he was an owner/operator of a Fortino's grocery store in Hamilton where he spent a great deal of time serving the public. He is happily married with his wife Dolorus & had two daughters and a son. His son serves in the Canadian Military & is currently stationed at a base in Alaska! 
If you see our Parts Shuttle van driving around Brant County, there is a good chance Mr. John is behind the wheel sourcing parts such as running boards, bug deflectors, body panels etc. to get your vehicle ready!